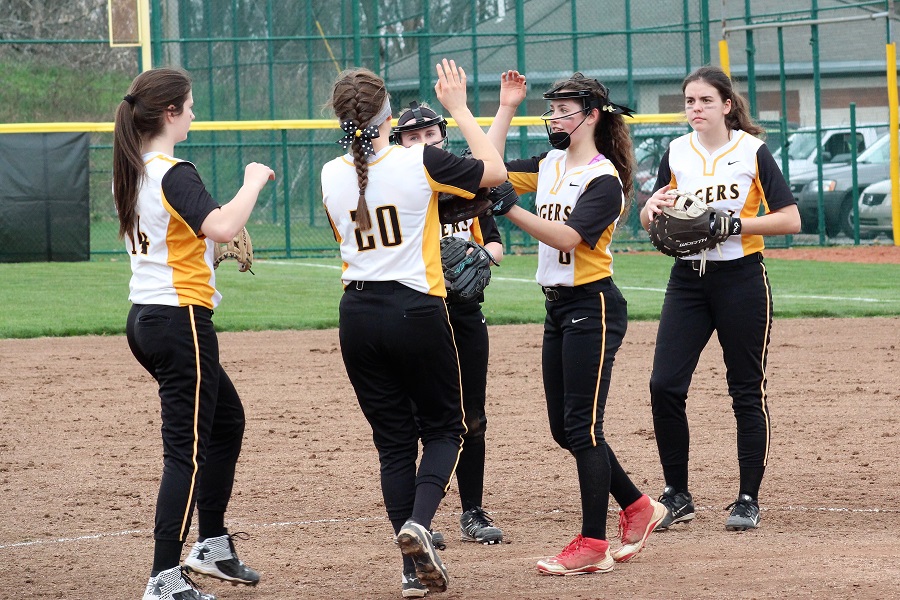 Tigers Rally To Beat No. 3 Latrobe In Extra Innings, 7-5
Seventh-ranked North Allegheny rallied from an early five-run deficit for a 7-5 victory over the third-ranked Latrobe Wildcats in eight innings on Tuesday. The Wildcats jumped out to a 5-1 lead in the first inning in this non-section matchup, but North Allegheny starting pitcher Brooke Serbin shutout Latrobe in the remaining innings to help set up the comeback. Serbin worked eight innings and struck out three without a walk for her fifth victory of the season.
With the Latrobe lineup rendered silent the rest of the way, the Tigers chipped away as sophomore Rachel Martindale and junior Shannon Hamm delivered two RBI apiece. Sophomore Kristen Chomos added an RBI and junior Anna Pilotta went 3 for 4 at the plate. Latrobe pitcher Ashley Pagliei took the loss, striking out seven without a walk in eight innings.
North Allegheny leaps to 6-2 overall with the non-section win. Latrobe slips to 4-3 overall. The Tigers are slated to host section foe Shaler on Thursday night at 7:00 p.m. Weather permitting, the game will be broadcast live via the internet on the North Allegheny Sports Network.
Softball vs. Latrobe, 4-18-17
| Score by Innings | 1 | 2 | 3 | 4 | 5 | 6 | 7 | 8 | | R | H | E |
| --- | --- | --- | --- | --- | --- | --- | --- | --- | --- | --- | --- | --- |
| North Allegheny | 1 | 0 | 3 | 1 | 0 | 0 | 0 | 2 | | 7 | 8 | 2 |
| Latrobe | 5 | 0 | 0 | 0 | 0 | 0 | 0 | 0 | | 5 | 5 | 2 |
WP - Brooke Serbin (5-2) LP - Ashley Pagliei