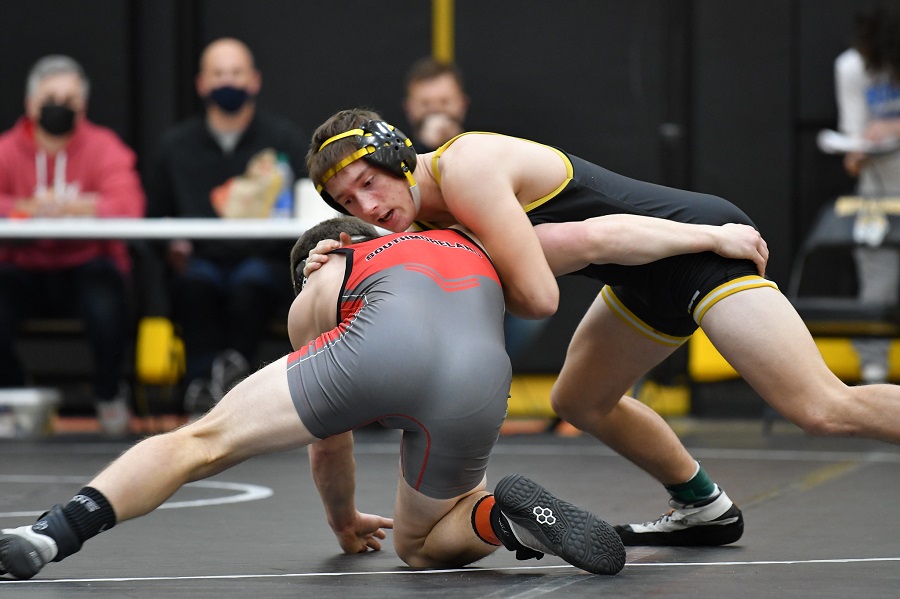 Tigers Reach Section 3-AAA Finals, Fall to Raiders
The North Allegheny wrestling team reached the Section 3-AAA finals on Monday night but fell to host Seneca Valley, 37-26. The Tigers reached the title tilt with a 64-0 shutout of West Allegheny to begin the evening in the section semifinals.
Against the WA Indians, the Tigers rolled to the victory with four wins by fall and three forfeits. Picking up pins were Luke Rumpler (285), Nathan Monteparte (132), Max Stedeford (145) and Travis Stipetich (172). For his victory over Adison Meister at 3:53, Stipetich was tabbed the Wright Automotive Wrestler of the Match. Brandon Weaver also earned six points for the Tigers with a win by injury default at 189 pounds.
Against Seneca Valley for the Section 3-AAA title, North Allegheny fell behind 15-0 before winning four of the next five bouts to trim the deficit to 21-18. At 120 pounds, Dylan Coy received a win by forfeit to get the Tigers on the board, followed by a 5-3 decision by Nick Gorman over Jacob Eubanks at 126 pounds. The Gorman victory pulled NA to within 15-9, but a Dylan Campbell win by fall at 132 pounds extended the SV lead to 21-9.
North Allegheny inched closer when Bradley Stipetich earned an 8-5 decision over Wayne Pirt at 138 pounds and Max Stedeford claimed a win by fall against Teagan Leighty at 145 pounds, cutting the Seneca Valley lead to 21-18.
A win by fall for Alejandro Herrera-Rondon at 152 pounds provided some breathing room for Seneca Valley and a 2-1 win in double OT by Antonio Amelio at 160 pounds gave the Raiders a 30-18 advantage.
Trailing by 12 points with three bouts remaining, Travis Stipetich gave North Allegheny a crucial victory with a win by fall at 172 pounds over Manuel Santos, cutting the score to 30-24, Seneca Valley. For his efforts, Travis Stipetich was once again named the Wright Automotive Wrestler of the Match.
Unfortunately for NA, a Seneca Valley win by fall from Liam Volk-Klos in the next bout at 189 clinched the section title for the Raiders. The Tigers closed out the evening with a 9-2 decision from Aiden Buggey, bringing the final score to 36-27, Raiders.
North Allegheny drops to 12-2 on the season following the night's results. The Tigers qualify for the WPIAL Team Tournament, which begins on Wednesday night. The North Allegheny Sports Network will have coverage of Wednesday's events.
Wrestling Match Summary: NA vs. West Allegheny
| Weight | Wrestlers | Score |
| --- | --- | --- |
| 215 | Aiden Buggey (NA) dec. Brandon Shoenberger (WA) | 5-3 |
| 285 | Luke Rumpler (NA) pinned Noah Zynosky-Zehnacker (WA) | 1:16 |
| 106 | Casey Walker (NA) dec. Caiden Harbert (WA) | 7-4 |
| 113 | Sam Horton (NA) wbf | |
| 120 | Dylan Coy (NA) dec. Nick Jones (WA) | 7-1 |
| 126 | Nicholas Gorman (NA) maj. dec. J.T. Hollyfield (WA) | 10-2 |
| 132 | Nathan Monteparte (NA) pinned Ben Moore (WA) | 0:36 |
| 138 | Bradley Stipetich (NA) dec. Curtis Brown (WA) | 7-1 |
| 145 | Max Stedeford (NA) pinned Shawn Taylor (WA) | 2:13 |
| 152 | Adam Rohan (NA) wbf | |
| 160 | Collin McCorkle (NA) wbf | |
| 172 | Travis Stipetich (NA) pinned Adison Meister (WA) | 3:53 |
| 189 | Brandon Weaver (NA) inj. default Christian Reynolds (WA) | |
---
Wrestling Match Summary: NA vs. Seneca Valley
| Weight | Wrestlers | Score |
| --- | --- | --- |
| 285 | Sennaca Harney (SV) dec. Luke Rumpler (NA) | 5-3 |
| 106 | Connor Smith (SV) pinned Casey Walker (NA) | 4:53 |
| 113 | Tyler Chappell (SV) pinned Sam Horton (NA) | 0:30 |
| 120 | Dylan Coy (NA) wbf | |
| 126 | Nicholas Gorman (NA) dec. Jacob Eubanks (SV) | 5-3 |
| 132 | Dylan Chappell (SV) pinned Nathan Monteparte (NA) | 3:48 |
| 138 | Bradley Stipetich (NA) dec. Wayne Pirt (SV) | 8-5 |
| 145 | Max Stedeford (NA) pinned Teagan Leighty (SV) | 1:29 |
| 152 | Alejandro Herrera-Rondon (SV) pinned Adam Rohan (NA) | 4:43 |
| 160 | Antonio Amelio (SV) dec. Collin McCorkle (NA) | 2-1, 2OT |
| 172 | Travis Stipetich (NA) pinned Manuel Santos (SV) | 5:33 |
| 189 | Liam Volk-Klos (SV) pinned Brandon Weaver (NA) | 1:49 |
| 215 | Aiden Buggey (NA) dec. T.J. Border (SV) | 9-2 |