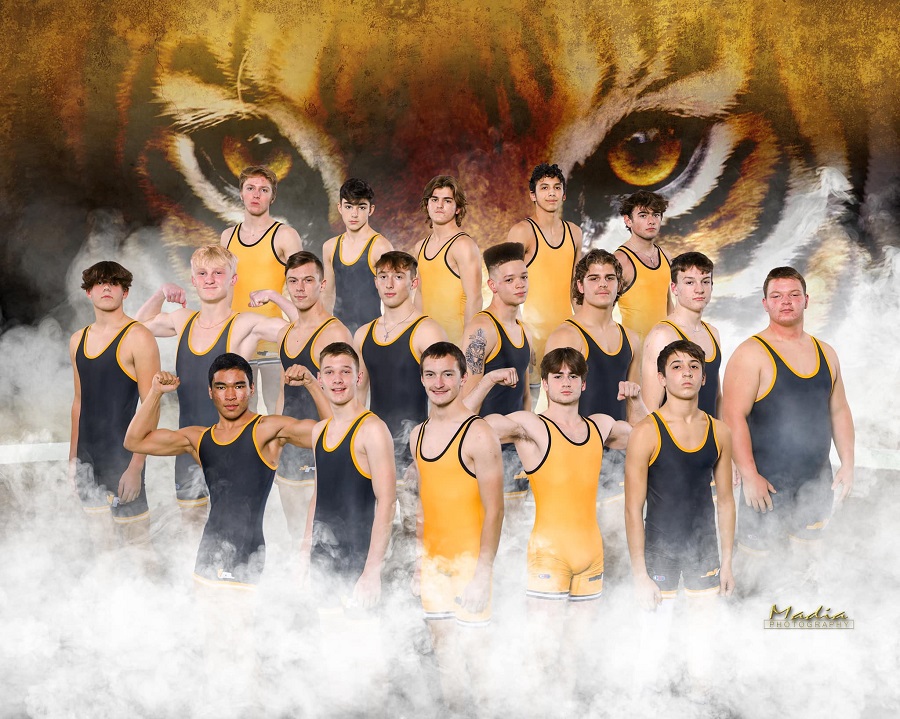 Tigers Reach WPIAL Quarterfinals Before Falling To Canon-McMillan
The North Allegheny wrestling team reached the quarterfinals of the WPIAL Team Tournament on Wednesday night with a 38-27 win in the opening round over Bethel Park at Canon-McMillan High School. Despite a valiant effort in the quarterfinals, the Tigers ultimately fell to the host Big Macs, 43-24.
In the first round matchup with the Black Hawks, the Tigers won four of the first five bouts to jump out to a 20-6 lead. Starting at 106 pounds, Casey Walker pinned Seth Miller in 21 seconds for an immediate 6-0 advantage. William Bentrim followed with a hard-fought 3-1 decision over Aiden Bench to give NA a 9-0 lead. For his efforts, Bentrim was named the Wrestler of the Meet by the North Allegheny Sports Network.
While a win by fall for Bethel Park's Mason Kernan at 120 pounds temporarily halted NA's momentum, the Tigers earned bonus points in the next two bouts with a win by fall from Dylan Coy at 126 pounds and tech fall victory courtesy of Nathan Monteparte at 132 for a 20-6 North Allegheny lead.
Back-to-back decisions by Bethel Park trimmed the NA lead to 20-12 before consecutive pin falls from Kellen Buggey (152) and Adam Rohan (160) increased the score to 32-12, Tigers.
Two straight pins pulled the Black Hawks to within striking distance at 32-24. However, Aidan Buggey clinched the victory for the Tigers with a win by fall over Logan Pettigrew for a 38-24 lead. In the final bout, Bethel Park's Jacob Brown picked up a 5-4 decision to bring the final score to 38-27, North Allegheny.
Against Canon-McMillan, the Big Macs won the first two bouts for a quick 10-0 lead. NA responded immediately with a 6-5 decision by Coy over Andrew Binni at 126 pounds and Monteparte followed with a win by fall over Mikhail Krenzelak to trim the CM lead to 10-9. At 138 pounds, Jayson Flener earned a 5-3 decision over Josiah Gardner to pull North Allegheny in front, 12-10. Flener was named the Wright Automotive Wrestler of the Meet.
Unfortunately, the two-point lead was short-lived as Canon-McMillan won the next five bouts, including three wins by fall, to take a commanding 37-12 lead to clinch the victory.
Following Wednesday night's outcome, North Allegheny moves to 7-1 overall on the season. The Tigers return to action on Tuesday, Feb. 15 with a tri-meet against Connellsville and Penn-Trafford. The tri-meet will be broadcast live by the North Allegheny Sports Network.
WPIAL-AAA 1st Round Summary: NA vs. Bethel Park
| Weight | Wrestlers | Score |
| --- | --- | --- |
| 106 | Casey Walker (NA) pinned Seth Miller (BP) | 0:21 |
| 113 | William Bentrim (NA) dec. Aidan Bench (BP) | 3-1 |
| 120 | Mason Kernan (BP) pinned Sam Horton (NA) | 3:17 |
| 126 | Dylan Coy (NA) pinned Aden Stout (BP) | 3:04 |
| 132 | Nathan Monteparte (NA) tech fall Ethan Higgins (BP) | 20-4 |
| 138 | Bryson Bench (BP) dec. Jayson Flener (NA) | 5-1 |
| 145 | Cordan McDonnell (BP) dec. Travis Stipetich (NA) | 3-1 |
| 152 | Kellen Buggey (NA) pinned Maksim Miller (BP) | 1:51 |
| 160 | Adam Rohan (NA) pinned A.J. Tomaino (BP) | 1:08 |
| 172 | Ryan Walsh (BP) pinned Anthony Spivak (NA) | 1:32 |
| 189 | Landon Hartman (BP) pinned Tyler Magorien (NA) | 1:29 |
| 215 | Aidan Buggey (NA) pinned Logan Pettigrew | 2:46 |
| 285 | Jacob Brown (BP) dec. Joseph Booth (NA) | 5-4 |
---
WPIAL-AAA Quarterfinal Summary: NA vs. Canon-McMillan
| Weight | Wrestlers | Score |
| --- | --- | --- |
| 113 | Brandon Dami (CM) maj. dec. William Bentrim (NA) | 14-3 |
| 120 | Jacob Houpt (CM) pinned Sam Horton (NA) | 4:19 |
| 126 | Dylan Coy (NA) dec. Andrew Binni (CM) | 6-5 |
| 132 | Nathan Monteparte (NA) pinned Mikhail Krenzelak (CM) | 3:16 |
| 138 | Jayson Flener (NA) dec. Josiah Gardner (CM) | 5-3 |
| 145 | Tyler Soule (CM) pinned Krist Vizcarra (NA) | 2:30 |
| 152 | Ashten Slavick (CM) pinned Kellen Buggey (NA) | 5:45 |
| 160 | Gianmarco Ramos (CM) dec. Adam Rohan (NA) | 6-1 |
| 172 | Matt Furman (CM) pinned Anthony Spivak (NA) | 0:18 |
| 189 | Geno Calgaro (CM) pinned Tyler Magorien (NA) | 2:32 |
| 215 | Aidan Buggey (NA) wbf | |
| 285 | Joseph Booth (NA) wbf | |
| 106 | Tanner Mizenko (CM) pinned Casey Walker (NA) | 0:27 |