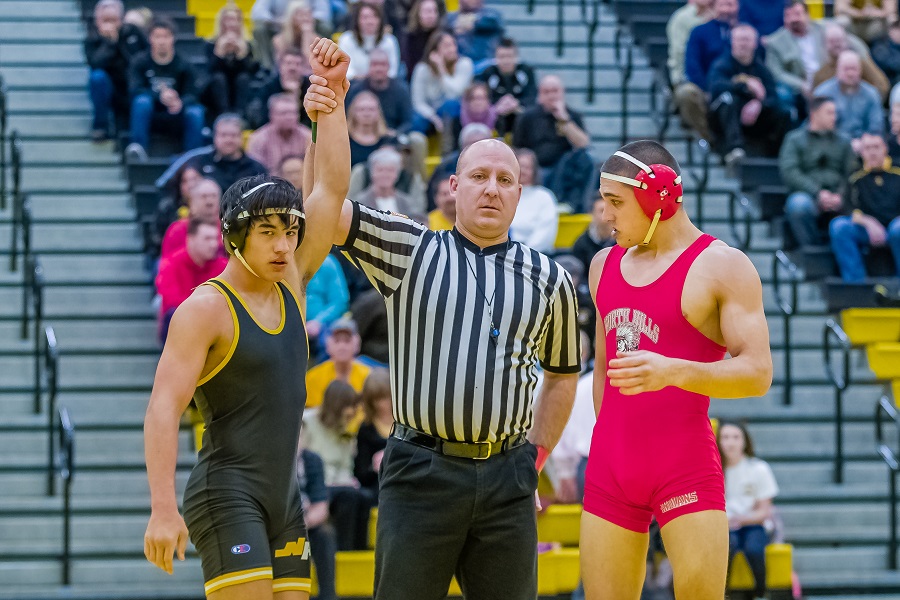 Tigers Render Father Judge With Loss In PIAA 1st Round
Against Father Judge in the opening round of the PIAA team tournament in Hershey, North Allegheny rendered the District 12 champions a 45-12 defeat on Thursday night at the Giant Center. The Tigers doled out plenty of punishment against Father Judge, winning the first six bouts en route to a 21-0 lead and blowout victory.
The Tigers picked up wins by fall from Jake Hinkson (145) and Eric Hong (160) along the way. Bonus point wins were secured by Jake Woodley who picked up a tech fall over Alex Chokas at 195 pounds, and Jacob Fritsch who tallied an 8-0 major decision over Erik Lindemann at 182 pounds.
North Allegheny leaps to 12-1 on the season following the win. The Tigers advance to the PIAA quarterfinals to face Exeter Township, the champions from District 3. Start time is set for 2:00 this afternoon.
Wrestling Match Summary: NA vs. Father Judge
| Weight | Wrestlers | Score |
| --- | --- | --- |
| 285 | Derek Devine (NA) dec. Dean Jakemon (FJ) | 7-0 |
| 106 | Frederick Junko (NA) dec. Robert Lawlor (FJ) | 5-2 |
| 113 | Jacob Downing (NA) dec. Eammon Logue (FJ) | 3-1 |
| 120 | Gabe Falo (NA) dec. John Matthews (FJ) | 8-3 |
| 126 | Nick Marcenelle (NA) wbf | |
| 132 | Will Baierl (NA) dec. Matthew Kidwell (FJ) | 8-6 |
| 138 | Caesar Fountain (FJ) dec. Zach Stedeford (NA) | 3-2 |
| 145 | Jake Hinkson (NA) pinned Dan Dugan (FJ) | 4:35 |
| 152 | Trevor Elfvin (FJ) dec. Jon Hoover (NA) | 3-1 (OT) |
| 160 | Eric Hong (NA) pinned Anthony Armstrong (FJ) | 0:51 |
| 170 | Jared Kramer (NA) dec. Stephon Pons (FJ) | 5-1 |
| 182 | Jacob Fritsch (NA) maj. dec. Erik Lindemann (FJ) | 8-0 |
| 195 | Jake Woodley (NA) tech fall Alex Chokas (FJ) | 20-1 |
| 220 | Sean Armstrong (FJ) pinned Benjamin Smallwood (NA) | 5:02 |