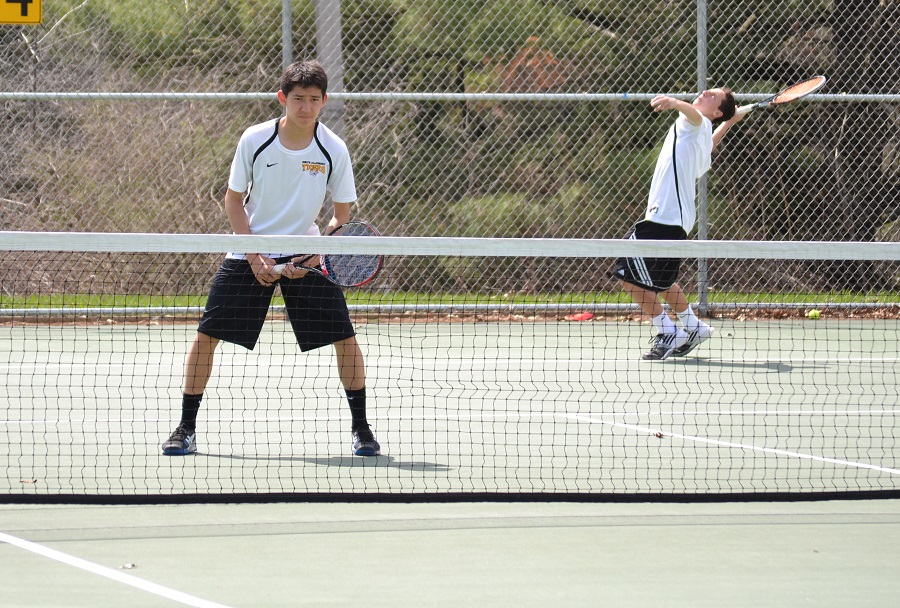 Tigers Resume Section 2 Play With 4-1 Win Over Knoch
The Tigers traveled to Saxonburg Wednesday afternoon to resume Section 2 play against the Knoch Knights. Using a modified line-up, the Tigers were still able to control play on a windy day and walked away with a 4-1 victory.
Sophomore Ivan Voinov took the reins at number one singles and managed a composed, quick, and decisive match without losing a game.  Fellow sophomore, unflappable Andrew Chuirazzi, made his 2016 singles debut a smashing success with a straight set win in the number two slot.  Freshmen Mark Chuirazzi and Jerry Huang moved seamlessly into the number one doubles position and did not skip a beat in their straight set win.  Brothers Apoorv Anand and Anmol Anand rounded out the scoring at number two doubles in dominating style.  Senior swingman Aamir Khan saw action at number three singles and acquitted himself well in a tight three set match.
The Tigers improve to 7-2 on the season and 4-0 in Section 2 play.  Thursday afternoon they welcome another section rival, the Mars Planets, to the NASH courts.  Match time is scheduled for 3:30 PM.
Match Summary 4/06/2016
North Allegheny—4   Knoch—1
Singles
#1 Ivan Voinov (NA) def. Shane Frishkorn (Knoch) 6-0, 6-0
#2 Andrew Chuirazzi (NA) def. Dan Carns (Knoch) 6-1, 6-1
#3 Mark Sotomayor (Knoch) def. Aamir Khan (NA) 6-4, 2-6, 7-5
Doubles
#1  Mark Chuirazzi/Jerry Huang (NA) def. Aiden Neigh/Patrick Smith (Knoch) 6-0, 6-1
#2  Apoorv Anand/Anmol Anand (NA) def. Ethan Bartos/Bill Sweeney (Knoch) 6-0, 6-1