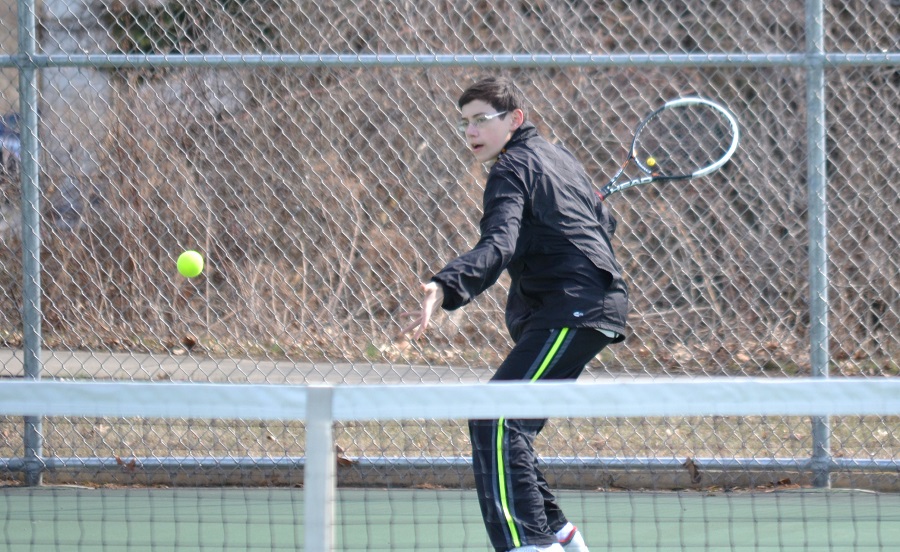 Tigers Resume Section Play With Road Victory Over Hampton
The Tigers continued Section 2 play Thursday afternoon by traveling to Hampton Community Park to take on the Hampton Talbots.  Battling both the Talbots and 40 degree temperatures with high winds, the Tigers prevailed in the contest with a sweep and all matches were completed in straight sets.
The first point of the match came from junior Jared Isaacs at number one singles, followed by freshman Richard Hofmann at number two singles.  The clincher came courtesy of freshman Ivan Voinov from the number three singles slot. Juniors Andrew Xu and Apoorv Anand took the first doubles point in a well contested match that saw them prevailing over Hampton's talented Jung Bang and Ted Donegan.  The Tigers took the first set and then found themselves down a break late in the second.  Xu and Anand came back to tie the score and set up a tie breaker where they prevailed 7-1 to close out the scoring.  The number two doubles combo of sophomore Ryan Marczak and freshman Andrew Chuirazzi rounded out the scoring, playing for the second time together at number two doubles.
The Tigers improve to 8-1 overall and are now 6-1 in Section 2 play.  They will take on the Pine-Richland Rams at home Friday afternoon in the most important Section 2 match of the year.  The starting time on the NASH courts will be at 3:30 PM.
Match Summary (4/23/15)
NORTH ALLEGHENY—5  Hampton–0
Singles #1  Jared Isaacs (NA) def. Matt Grubic (Hampton) 6-0, 6-0
#2  Richard Hofmann (NA) def. Noll Joseph (Hampton) 6-0, 6-0  
#3  Ivan Voinov (NA) def. Sal Kothapalli (Hampton) 6-0, 6-0
Doubles
#1  Andrew Xu/Apoorv Anand (NA) def. Jung Bang/Ted Donegan (Hampton) 6-4, 7-6 (1)
#2  Ryan Marczak/Andrew Chuirazzi (NA) def. Tanner Merigliano/Kurt Mueller (Hampton) 6-0, 6-4