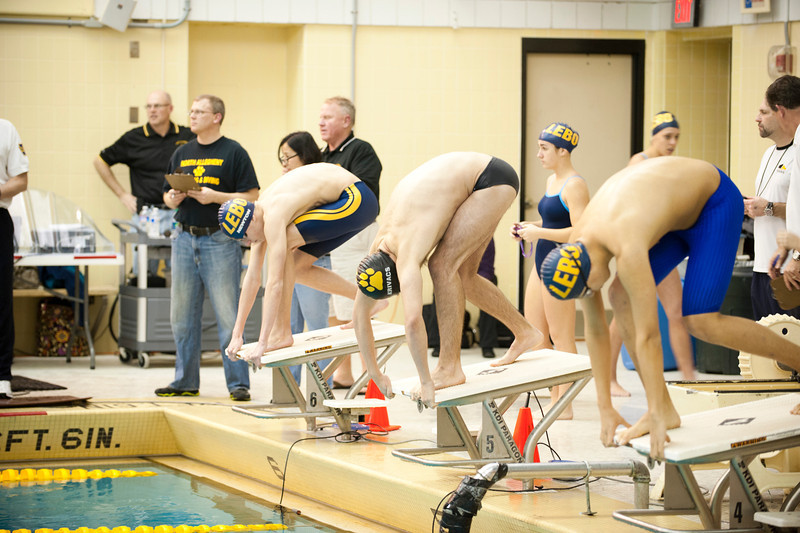 Tigers Rewrite Record Book At Mt. Lebanon
The North Allegheny Girls and Boys swim teams combined to set pool records in seven events as they swept Mount Lebanon on December 11 at Mount Lebanon High School.  The girls defeated Mount Lebanon 111-73, and the boys prevailed 102-84.
Five of the pool records were set by the girls, including two in individual events by freshman Ann Juneau (2:05.00 in the 200-yard individual medley and 1:04.99 in the 100-yard breaststroke).  Juneau also was part of the 200-yard medley relay team with senior Morgan Soulia, sophomore Anna Verardi and junior Erin Kuhn that set a pool record of 1:48.00.  Soulia's time of 51.65 in the 100-yard freestyle was a pool record in that individual event, and Lauren McGrath's time of 1:52.83 in the 200-yard freestyle set a new pool mark for that event.
For the boys, sophomore Eben Krigger set a pool record in the 500-yard freestyle with a time of 4:41.73, and then teamed with junior Daniel Songer, senior Andrew Lehman and freshman Mason Gonzalez to set a pool record in the 200-yard freestyle relay with a time of 1:26.62.
For a full listing of the meet results at Mt. Lebanon, click here.
The North Allegheny swim teams will host their first home meet of the season on Tuesday night against the Upper St. Clair Panthers. Start time is set for 6:00 pm at NASH.