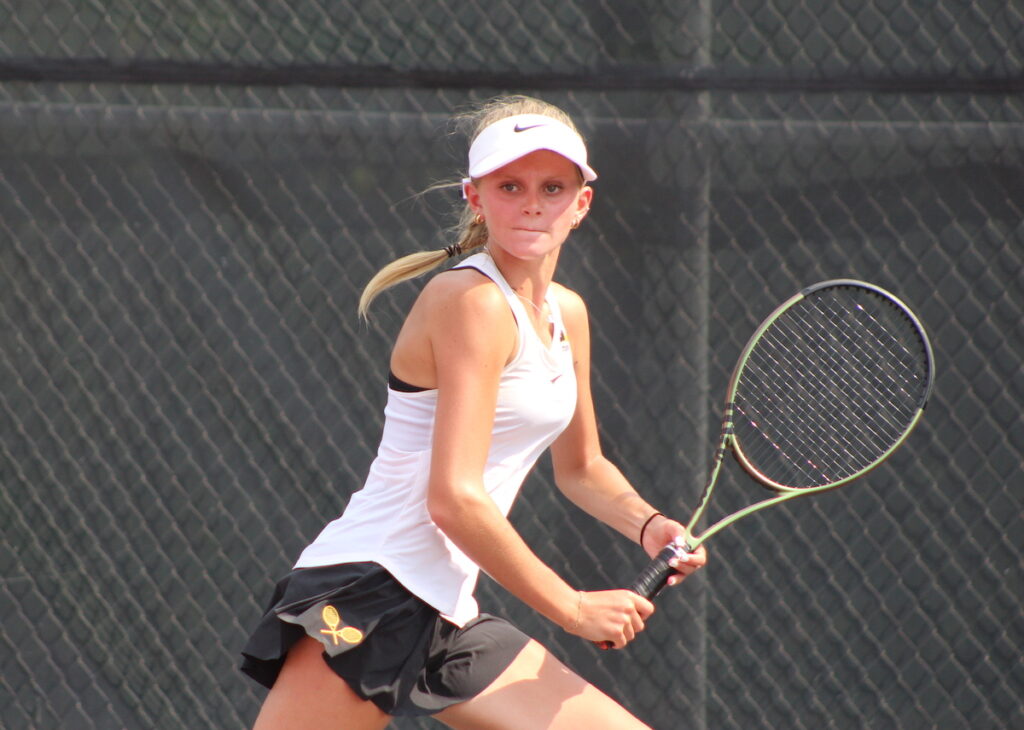 Tigers Rout Raiders
by Jonathan Spina
The North Allegheny girls' tennis team won their third consecutive match to start the 2023 season with a 5-0 sweep of Seneca Valley in their section opener.
Senior Laeticia Wessel, freshman Peyton Mauser and sophomore Audrey Zheng each powered their way to a win in singles play. Wessel cruised to a 6-0, 6-1, victory against Kylie Staudt at No. 1 singles. Mauser topped Lillie McElhmery by a score of 6-0, 6-1 at No. 2 singles. At No. 3 singles, Zheng dominated Sydney Blucher for a 6-0, 6-0, triumph.
The NA doubles teams had similar success as the No. 1 pairing of Tia Soussou and Siya Jain toppled Maggie Groves and Cody Shea by a 6-4, 6-1, decision. The No. 2 duo of Rebecca Murphy and Kaitlyn Zeman got a 6-1, 3-6, 6-2, victory against Anna Coun and Alaina Brady.
With the win, North Allegheny improves to 3-0 overall and 1-0 in the section. The Tigers will be back in action tomorrow at Upper St. Clair in another non-section match.
Girls Tennis Summary vs. Seneca Valley, 8-28-23
Match Summary

NORTH ALLEGHENY - 5
LATROBE- 0

SINGLES
#1
Laeticia Wessel (NA) def. Kylie Staudt (SV)
6-0, 6-1
#2
Peyton Mauser (NA) def. Lillie McElhmey (SV)
6-0, 6-1
#3
Audrey Zheng (NA) def. Sydney Bluoher (SV)
6-0, 6-0
DOUBLES
#1
Tia Soussou/Siya Jain (NA) def. Maggie Groves/Cady Shea (SV)
6-4, 6-1
#2
Rebecca Murphy/Kaitlyn Zeman (NA) def. Anna Coun/Alaina Brody (SV)
6-1, 3-6, 6-2