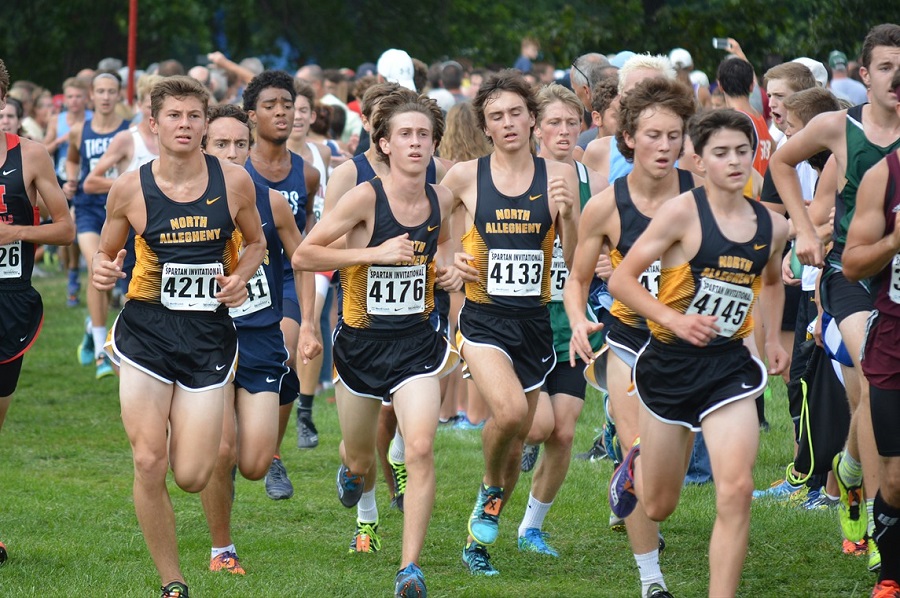 NA Runs Hard At Boardman Spartan Invitational
The North Allegheny cross country teams went cross state to Boardman, Ohio for the Boardman Spartan Invitational. Both teams faced stiff competition, including some of the top-ranked teams in the state of Ohio.  The NA Boys finished 4th out of the 46 teams in the Division 1 race, while the girls placed 9th out of 41 teams.
Leading the pack for the boys' team was Jacob Greco with a time of 17:09.  The boys were in a tight pack once again with spread of just 9 seconds (1-5).
The top seven Tigers in order were:
Jacob Greco (Senior)
Zack Deible (Senior)
Clark Smith (Junior)
Luke Turkovich (Sophomore)
T. J. Robinson (Junior)
Dan McGoey (Freshman)
Mark Hartigan (Senior)
The girls' team put forth a solid team effort, and had a tight spread of only 47 seconds.  Sophomore, Ally Meehan, ran tough to pace the Tigers on the flat grass course.  The top seven Lady Tigers in order were:
Ally Meehan (Sophomore)
Hannah Lindgren (Freshman)
Tess Wright (Junior)
Ally Christy (Junior)
Kara Daggett (Senior)
Jenna Mlecko (Freshman)
Selin Cetin (Junior)
NAXC will take on local section rivals, North Hills and Shaler, this Tuesday for their second and final home meet.