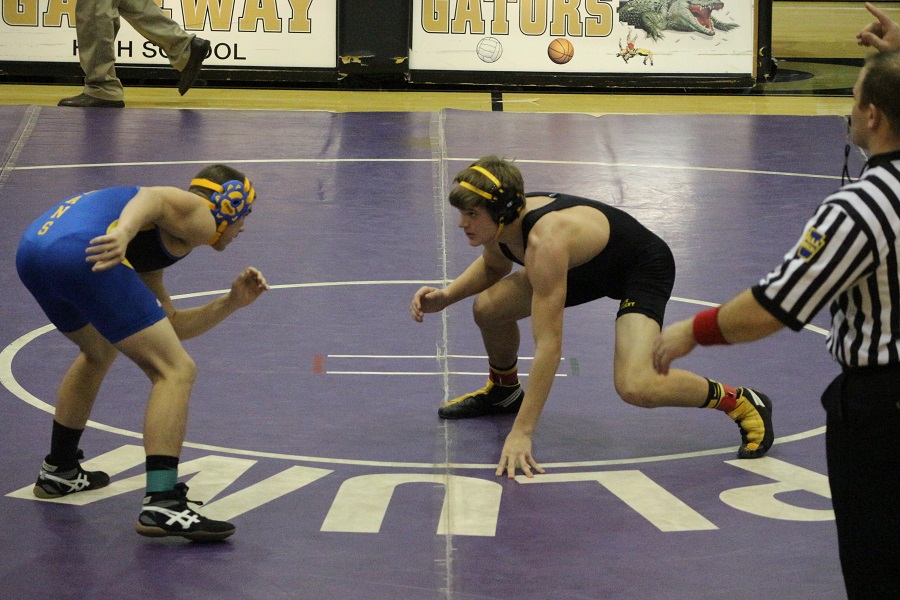 Tigers Seize Control Of Subsection With Win At Butler
The North Allegheny Wrestling Team seized a strangle hold of Section 3-A on Friday night with a convincing 46-16 win over the Butler Golden Tornado. To earn the road victory, the Tigers used pins from Harley Hartle (113), Dom Forys (126), and Zach Smith (195) to pull away from Butler. Jake Woodley earned a 10-2 major decision over Zachery Raible at 160 pounds as part of NA's winning effort.
The victory over Butler moves the Tigers to 3-0 in section action and 4-0 overall with only Pine-Richland and Mars remaining on the section schedule. Pine-Richland and Mars are a combined 0-3 in the section this season. For previously unbeaten Butler, the Golden Tornado drops to 2-1 in Section 3-A and 2-2 overall.
The Tigers host Mars on Wednesday in a match-up that will be broadcast live via the internet on the North Allegheny Sports Network.
Wrestling Match Summary: NA vs. Butler
| Weight | Wrestlers | Score |
| --- | --- | --- |
| 106 | Zack Stedeford (NA) wbf | |
| 113 | Harley Hartle (NA) pinned Maxwell Stalnaker (BUT) | 1:52 |
| 120 | Scotty Stossel (NA) dec. Scott Dietrich (BUT) | 9-2 |
| 126 | Dom Forys (NA) pinned Connor Foust (BUT) | 1:56 |
| 132 | A.J. Boeh (NA) dec. Mason Kauffman (BUT) | 5-0 |
| 138 | Cody Houston (BUT) dec. Richie Boeh (NA) | 7-4 |
| 145 | Sean Kalmeyer (NA) dec. Hank Finari (BUT) | 6-4 |
| 152 | Jeremiah Bortmas (BUT) maj. dec. Blynn Shideler (NA) | 9-1 |
| 160 | Jake Woodley (NA) maj. dec. Zachery Raible (BUT) | 10-2 |
| 170 | Ryan Hannon (BUT) dec. Colton Byerly (NA) | 3-0 |
| 182 | Clay Byerly (NA) wbf | |
| 195 | Zach Smith (NA) pinned Alex White (BUT) | 2:43 |
| 220 | Layne Skundrich (NA) dec. Will Bortmas (BUT) | 3-0 |
| 285 | John Bojanac (BUT) pinned David Probert (NA) | 3:51 |