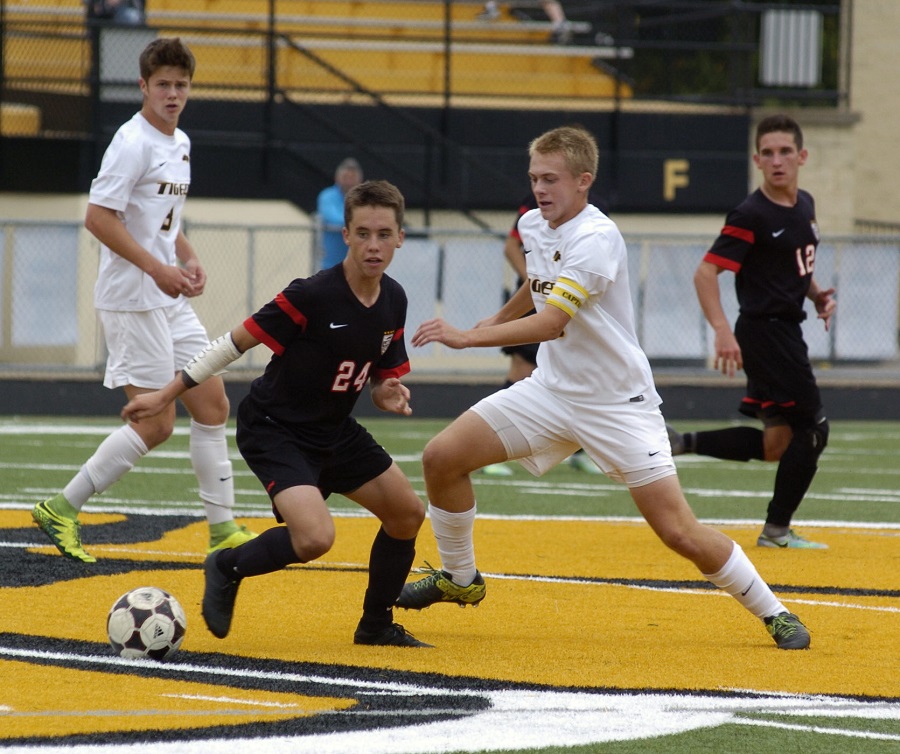 Tigers Shut Out Upper St. Clair, 1-0
The North Allegheny Tigers continued their undefeated 2016 season on Saturday with a hard-fought 1-0 victory over the Upper St. Clair Panthers at Newman Stadium.
The first half, while ending 0-0, was an opportunity for the Tigers to show the strength of their roster.  Strong play from forwards Will Brunner and Ryan Earle, intense play from mid-fielders Zac Marzula, Sam Buirge, Josh Rouser and Justin Scheidler, and staunch defense by Ethan Schenk, Reggie Kossuth, John Acierno and Nathan Muckle kept a powerful Upper St. Clair offense scoreless by holding them to only one shot on goal.
In the second half, the Tiger offense showed its strength by increasing the pressure on the Upper St. Clair defense with numerous scoring opportunities. The pressure culminated in a goal with 18:52 left in the game by Ben Cinker off a beautiful shot-fake and pass by Cam Yurick. The Tigers were able to keep the 1-0 lead in spite of increased pressure from the Panthers' offense.  Keeper Grant Glorioso made several key saves and the defense held strong to preserve the victory.
The non-section win moves the Tigers' overall record to 7-0-3.  Next up is a battle for first place in Section 1 vs. rival Seneca Valley on Tuesday night.  Due to planned construction at Newman Stadium the game will be held at J.C. Stone field in North Park at 7 p.m. The game will be broadcast live via the internet on the North Allegheny Sports Network.