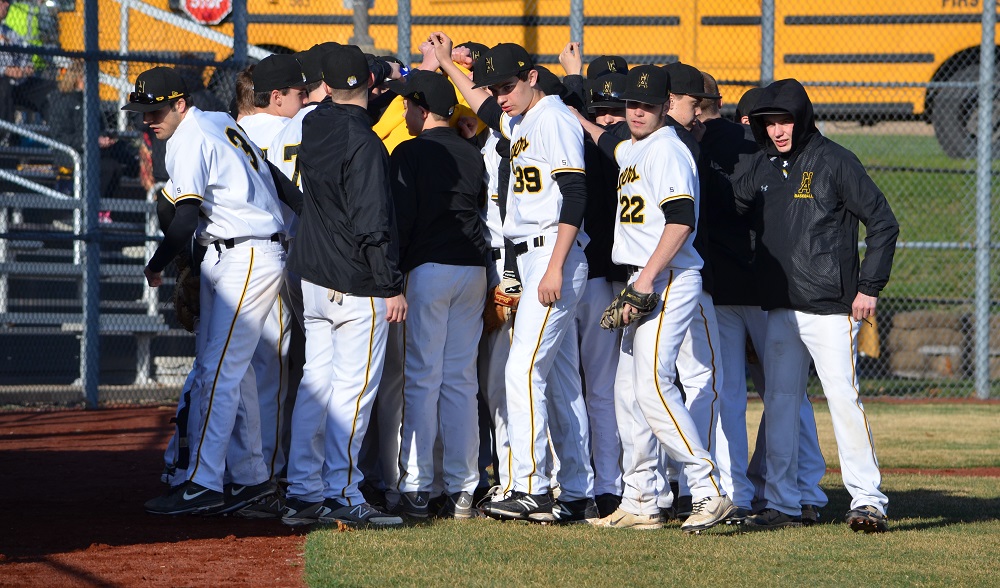 Tigers Shutout Blackhawk, 3-0
Three North Allegheny pitchers combined for a five-hit shutout as the Tigers blanked the Blackhawk Cougars on Monday afternoon, 3-0, in a non-section game at NASH. Starting pitcher Neil Woods (1-0) surrendered just one hit in three innings to earn the victory.  Sophomore Danny Caropresi followed with one inning of relief and sophomore Bobby Brown closed out the game with three scoreless innings for the save.
North Allegheny didn't manage much offense against Blackhawk but the Tigers didn't need much thanks to the strong work on the mound.  The Tigers took a 2-0 lead in the bottom of the first inning when senior Chris Vrana scored on a wild pitch and junior Daniel McCauley drove home Jon Dignazio with an RBI single. North Allegheny made it 3-0 in the bottom of the second inning thanks to a Cougars wild pitch that scored junior Ben Marsico from third base.
With the win, North Allegheny improves to 2-0 overall while Blackhawk dips to 0-1. The Tigers are slated to host Mt. Lebanon this afternoon at 4:00 pm.
Line Score - NA Baseball vs. Blackhawk, 3/23/15
| Score by Innings | 1 | 2 | 3 | 4 | 5 | 6 | 7 | | R | H | E |
| --- | --- | --- | --- | --- | --- | --- | --- | --- | --- | --- | --- |
| Blackhawk | 0 | 0 | 0 | 0 | 0 | 0 | 0 | | 0 | 5 | 0 |
| North Allegheny | 2 | 1 | 0 | 0 | 0 | 0 | 0 | | 3 | 4 | 1 |
WP - Neil Woods (1-0) LP - Pence SV - Bobby Brown (1)