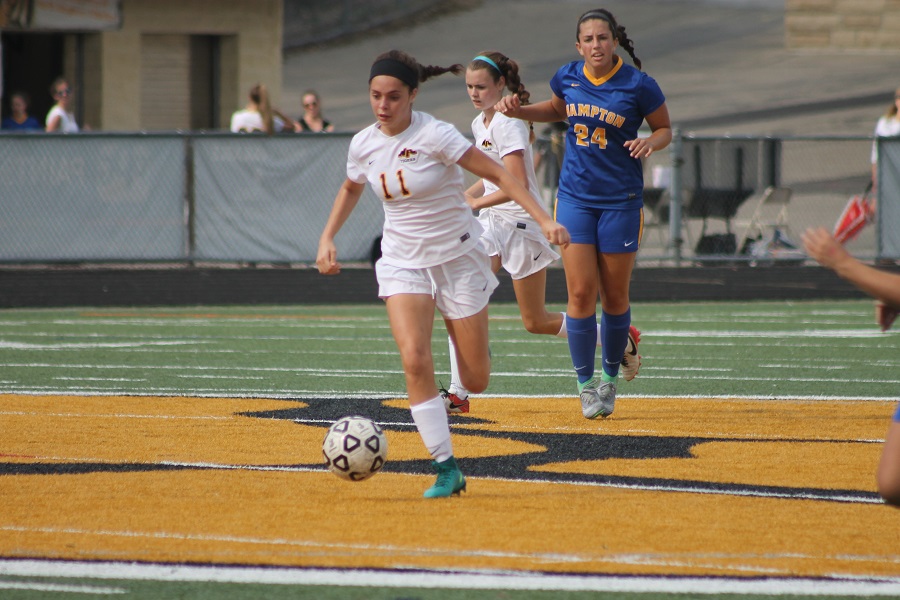 Tigers Shutout Hampton At Soccer Fest, 5-0
by Girls' Soccer Contributor
When a team only gives up three goals in goals games, that is outstanding team defense.  When they only allow three shots (none on goal) in an 80 minute game, that is dominating team defense.  Senior goaltenders Julie Correa and Olivia Ruppersberger did not have to make any saves in a 5-0 shutout of the Hampton Talbots on Saturday at Newman stadium.
The North Allegheny girls' soccer team gave the Soccer Fest crowd a glimpse of what they have been doing through the first quarter of the season, dominating play and scoring goals.  The great thing about Coach Chuck Kelley's team is the scoring depth they have.  Five different players from seniors to freshman scored on Saturday afternoon and Bella Pietropola returned to the lineup to anchor a defense including Ally Longo, Jetta Kroll, Caroline Wood, and Caroline Noel that has not allowed many scoring chances all year.
Ava Ruppersberger's goal 25 minutes in ended up being the game winner.  Ava took a feed from Addie Metcalf and knocked it in.  The Lady Tigers outshot the Talbots of Hampton, 16-1, in the first half while dominating play all over the field.  Their attack was relentless and were it not for Hampton goaltender Lauren Duderstadt standing on her head, the score would have been much worse.
Thirty-eight seconds into the second half, the Lady Tigers put the game out of reach with a quick strike goal from senior Morgan Anderson.  A tic-tac-toe pass from Ava Ruppersberger to Emma Bundy who headed the ball toward the net and Anderson ran in and finished off the play for a 2-0 lead.
After Alex Adams scored at the 6:36 mark of the second half to make it 3-0, Coach Kelley used this opportunity to give his younger players some valuable playing time.  Metcalf led the second half with four shots, one of which resulted in a goal for a 4-0 advantage.  Freshman Sarah Shupansky rounded out the scoring by putting one top shelf on the Talbot's tender.  Also contributing to the win were freshman Grace Billman, sophomore Riley Miara, sophomore Sophia Spano, and sophomore Natalie Mudd.
The Lady Tigers, who find themselves ranked No. 3 in the WPIAL AAAA Rankings and No. 1 in their section, take on a talented Pine-Richland team Monday at Newman stadium.  The contest between the Tigers and Rams on Monday night will be broadcast live via the internet on the North Allegheny Sports Network.