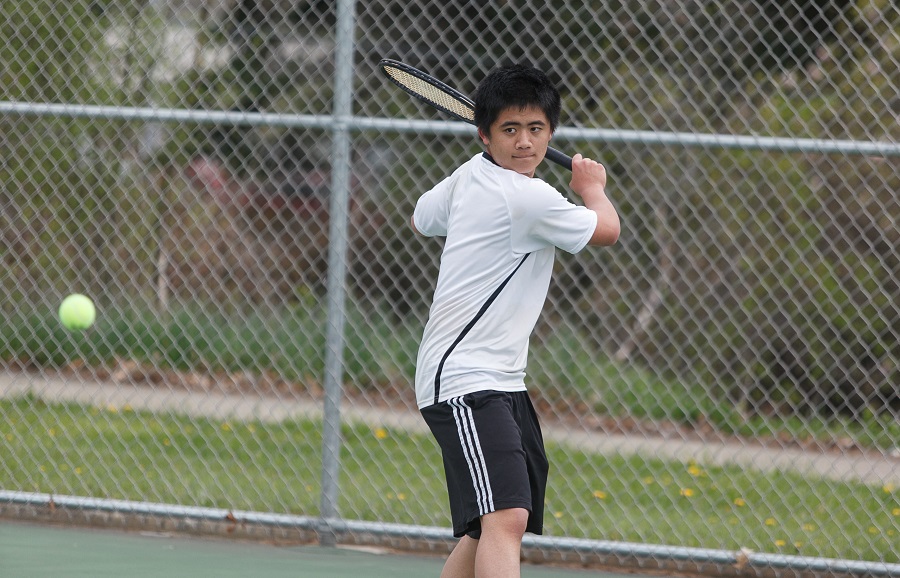 Tigers Slay Mt. Lebanon Blue Devils, 4-1
Playing on the NASH courts on a windy Friday afternoon, the Section 2 Tigers tangled with the Section 4 Mt. Lebanon Blue Devils in a pulsating match that saw four of the five contests stretch to three grueling sets. Playing before raucous crowds that spurred each side to exceptional efforts, the Tigers prevailed 4-1 in a nail biting, see-saw affair.
The first point was recorded by North Allegheny's number two singles player, sophomore Richard Hofmann, who defeated Christian Vietmaier in straight sets.  It took 45 more minutes until the next points were recorded, as freshmen Mark Chuirazzi and Jerry Huang fell in number two doubles in three sets after having taken the first frame.  With the score even, the second Tigers' point came off the racquet of number one singles player and four year starter, senior Jared Isaacs, who defeated Charlie Strohl in three sets.  With the match hanging in the balance, the number three singles and number one doubles matches increased dramatically in intensity.  Sophomore Ivan Voinov dropped the first set but bounced back to take the second. Senior Andrew Xu and sophomore Andrew Chuirazzi also lost the first set but rebounded to win the second.  Each third set was intense, and the match-clinching point came in first doubles as Xu and Chuirazzi won an exciting tie break 7-5 after both squads could not squeeze out a regulation victory.   Not to be outdone, Voinov took command and won the third singles' third set in convincing fashion shortly thereafter.  The Tigers saw their season end last year in the WPIAL Quarterfinals to Mt. Lebanon, so the early season win offered a small measure of revenge along with a boost very early in the '16 campaign.
The Tigers will begin section 2 play Monday afternoon as the North Hills Indians visit Wexford. Match time on the NASH courts is scheduled for 3:30 PM.
Match Summary 3/18/2016
North Allegheny—4   Mt. Lebanon—1
Singles
#1  Jared Isaacs (NA) def. Charlie Strohl 6-2, 4-6, 6-2
#2  Richard Hofmann (NA) def. Christian Vietmeier (Mt. Leb.) 6-4, 6-4
#3  Ivan Voinov (NA) def. Michael Wilke (Mt. Leb.) 5-7, 6-4, 6-3
Doubles
#1  Andrew Xu/Andrew Chuirazzi (NA) def. Sam Bellini/Ian McCabe (Mt. Leb.) 5-7, 6-4, 7-6 (5)
#2 Jackson Schultz/Kyle Carscadden (Mt. Leb.) def. Mark Chuirazzi/Jerry Huang (NA) 4-6, 6-4, 7-5