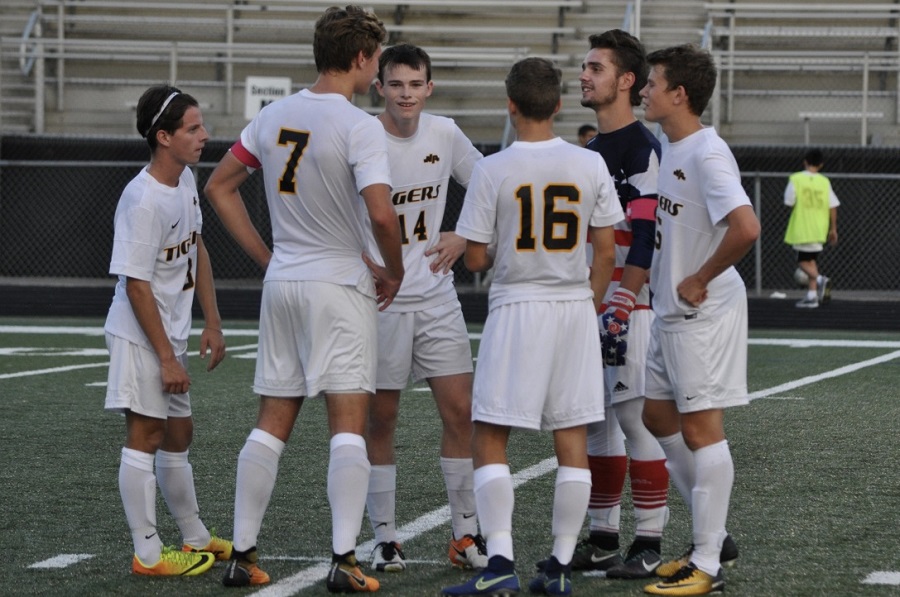 Tigers Slay Titans, 5-0
by Boys' Soccer Contributor
The North Allegheny boys' soccer team earned a 5-0 shutout victory over the Shaler Titans on Friday night to remain unbeaten in Section 1-AAAA.
The Tigers were playing in front of a good crowd at Newman Stadium but started slowly as they didn't put a quality shot on goal until the 14:46 mark of the first half on a well-placed cross from Nick Bridges to Cam Yurick in front of the net. The Shaler keeper was up for the challenge, however, and the game remained scoreless. The Tigers started to go attack-mode soon after as Zac Marzula found Yurick again who made it 1-0 at 13:39 from ten yards out.  Josh Luchini quickly made it 2-0 at 12:25 off a deflection, and at 00:15 Sean Atwater nearly added another goal when he found Luchini with a perfectly placed 40-yard pass that was headed on net . Unfortunately, the Titan goalie made an outstanding save on Luchini to end the half and keep the game at 2-0.  The home team led shots on goal, 6-2, while only having one corner kick.
The offense come out in the second half determined to attack and at 31:42 Atwater found Luchini  at the side of the net who scored, making it 3-0.  After successive shots on the Shaler net by Ryan Earle, Luchini and Atwater, Yurick found Luchini in front who scored his third of the night and 17th of the season at 18:33 making it a 4-0 cushion.  Yurick rounded out the scoring for the night with his eighth goal of the season on a nice feed from Luchini, extending the lead to 5-0.  North Allegheny showed their dominance in this half with seven shots on goal versus zero for the Titans and a five to one corner advantage.
Goalie Grant Glorioso and his defense of Christian Giannetti, Ethan Schenk, Sam Neal, Luke Steven and Sam Buirge earned their eighth shutout of the season while improving their overall record to 10-2-1 and first place in the section at 6-0-1.
The Tigers next game is Tuesday October 3 at Pine Richland at 7:30 p.m. in an important section game for both teams. The game will be broadcast live by the North Allegheny Sports Network on a special pay-per-view video stream ($5.00) which can be seen by clicking here.