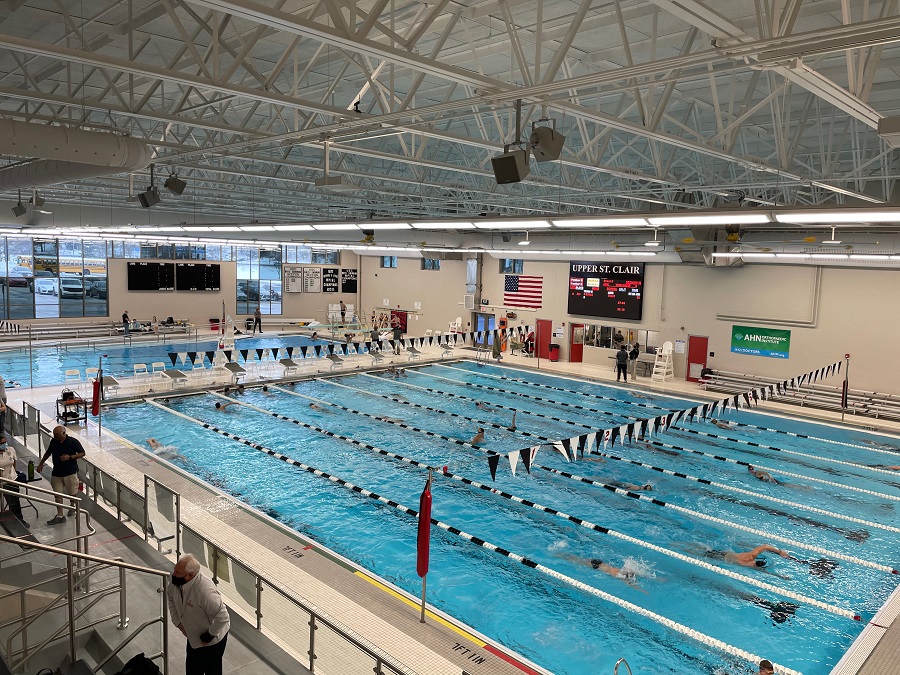 Tigers Split Meet With Upper St. Clair
Swim Rivals North Allegheny and Upper St. Clair faced off for the first time at USC's new Aquatics Center with the Lady Tigers coming out on top setting pool records with a score of  110-76 and the Boys team losing to the Panthers 93.5-91.5.
The Lady Tigers kicked off the meet breaking the pool record in the 200 Medley Relay with Lexi Sundren, Natalie Sens, Ella Ogden and Quinn Frost touching first with a time of 1:47.21. Swimmers Olivia Kisow, Isabella Dietz and Brooke Glinski swept the 200 IM respectively. Ogden touched first in the 100 Butterfly along with Greta Mott placing first in the 100 Backstroke and  Lady Tigers Sens, Kisow, and Sophia Huwar sweeping the 100 Breast.  And lastly, another pool record was set by Smyers in the 500 Free with a time of 5:05.39.
Tigers divers had an excellent meet with both Maya Ennis (Final Score 294.20) and Will Schenk (Final Score 249.20) also setting new pool records. Tiger Divers Ennis, Zoe Ky (Final Score 265.65), and Maddie Whitewolf (Final Score 196.20) swept the meet for the girls respectively, and Schenk and Lucas Rodgers (Final Score 210.30) took first and second for the boys.
For the Boys swim team, Zachary Jubeck touched first in the 200 Free, Timothy Compton in the 200 IM and Jacob McCarran in the 50 Free. Jubeck also won first place in the 500 Free. The Tigers and the Panthers were tied going into the 400 Free Relay and the last event which made for an exciting finish to the meet. The race was tight and hard fought and the Panthers came out on top.
The Tigers will host North Hills Wednesday, February 17, 2021 at 5:00 p.m. for their last regular season meet.