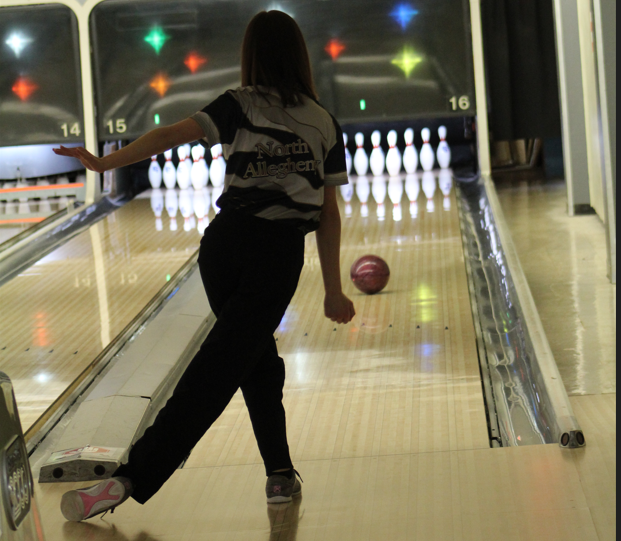 Tigers Split With Cavaliers
The Tigers hit the road Thursday afternoon headed east to battle the Kiski Area Cavaliers.  This was the first head-to-head meeting this year between the two WPIBL North section foes.
The Lady Tigers bowled their highest team series this week finishing with 1631 pins. Throwing their highest 3-games series so far this season were seniors Jenny Li and anchor Katrina Price with a 297 and 443, respectively.  Also contributing to the team total were seniors Grace Yook (303), Natalie Ceccarelli (299), and Ella Cullen (289).   The battalion of seniors threw their highest game of the year finishing game 3 with a 595.  The Tiger attack fell short, however, as the Lady Cavaliers prevailed, winning all three games and total pins: 499-806, 537-702, 595-843.  With the loss, the Lady Tigers fall to 1-2 to start the season.
For the NA boys, the duel was quick with NA earning all 7 match points and the victory, 2610- 1287.  The Cavaliers were unable to field a full team of bowlers; Fiver Tigers battled against the Three Musketeers.  Leading all bowlers was Kiski's Nickson McDermott with a 608 Series.  The North Allegheny offensive was headed by juniors Connor Peoples and Cole Scott.  Scott's 203 during game 1 was the highest game produced by NA.  Peoples' 200 in game 3 provided the perfect bookend to the match.   The Tigers improve to 2-1 in section play.
The Tigers are on the road again next week when they return to Deer Lakes Bowl to take on the Deer Lakes Lancers.