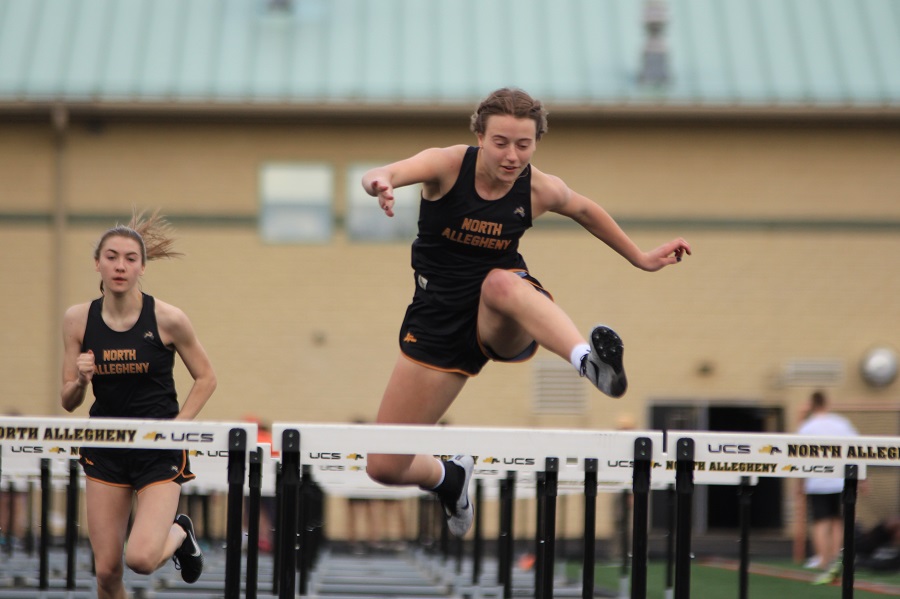 Tigers Split With Golden Tornado In Section Meet
The North Allegheny track and field team earned a section split on Thursday afternoon at Butler. The Lady Tigers picked up a 96-54 victory, while the NA Boys dropped a 91-59 decision to the Golden Tornado.
For the Lady Tigers, North Allegheny dominated in the 1600m Dash with Wren Kucler, Robin Kucler and Maura Mlecko taking first, second and third place. NA also picked up 1-2-3 finishes in the 400m Dash with Mia Tuman, Isabella Costa and Jameson Stotsky leading the way. In the 800m Dash, Wren Kucler took first place, followed by teammates Robin Kucler and Rachel Hockenberry. In the Pole Vault, Ava Como, Abby Barton and Delaney Tedesco garnered a first, second and third place performance. Additionally, another 1-2-3 effort for the Tigers was provided in the 3200m Dash by Robin Kucler, Eva Kynaston and Camille Swirsding.
Helping the NA Girls to victory were first-place performances by Kena Shannon in the 300m Hurdles, Rachael Johns in the High Jump and Jacqueline DiGiacamo in the Discus. The 3200m Relay and 1600 Relay teams also took first place for the Lady Tigers.
Facing one of the best Butler teams in years, the NA boys fell in their section meet but still had several outstanding performances. Junior Owen Curran claimed first place in the 300m Hurdles and High Jump. Senior Dwayne Taylor dominated the Long Jump and Triple Jump with first-place efforts in both events. Senior Patrick Keenan delivered a first-place effort in the Shot Put.
Following Thursday's results, the North Allegheny boys slip to 4-1 overall and 3-1 in the section. The Lady Tigers remain unbeaten with a 5-0 overall mark and 4-0 section record. NATF returns to action on Monday for a tri-meet at Shale with the Titans and Fox Chapel.