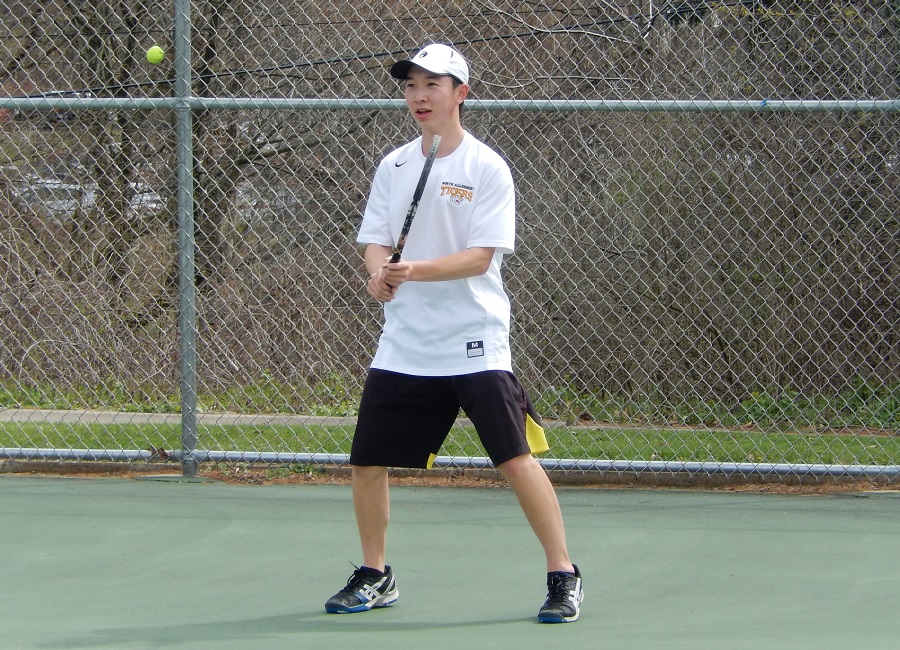 Tigers Squeeze by Sewickley Academy in 3-2 Thriller
The Tigers resumed play Wednesday afternoon after sectional doubles were settled, as they took on Class AA powerhouse Sewickley Academy on the NASH courts in an exhibition match. With all the drama of a playoff contest, both sides exchanged their best shots until the Tigers captured a thrilling, 3-2 win.  The first point of the match came from sophomore Richard Hofmann at number two singles as he swept Ryan Gex, losing only one game in the process. Sophomore Ivan Voinov battled gamely against Sam Sauter in a tight two set match but fell to even the score at one.
The drama began at this point, as NA ace, senior Jared Isaacs tangled with Luke Ross, two-time defending WPIAL Class AA singles champion and the number two ranked junior in PA.  Isaacs, the defending two-time PIAA doubles champion used this match to serve notice that he belongs in the upper echelon of singles players as well.  Isaacs took the first set 6-1 before Ross stormed back to even with a second set win.  The third set was tight as both players pushed each other to their limits of competition.  Tied at 4, Isaacs held serve to lead the set and then clinched by breaking Ross to take the set and match, 6-4.
Senior Andrew Xu and sophomore Andrew Chuirazzi found themselves going into a third set at first doubles while the second doubles combo was already in the midst of a third frame.  Freshmen Mark Chuirazzi and Jerry Huang were locked in a see-saw dual in which neither side could take control.  Reaching 6 apiece, the resulting tie-break appeared to be heading Sewickley's way.  Down 1-4, the freshmen ground out six consecutive points to take their set and match and to clinch the contest for North Allegheny.
The Tigers improve to 11-2 record on the season and return to Section 2 play Thursday afternoon against Hampton on the NASH Courts.  Starting time is scheduled for 3 PM.
Match Summary (4/20/16)
NORTH ALLEGHENY—3 Sewickley Academy–2
Singles
#1  Jared Isaacs (NA) def. Luke Ross (SA) 6-1, 63-6, 6-4
#2  Richard Hofmann (NA) def. Ryan Gex (SA) 6-1, 6-0
#3  Sam Sauter (SA) def. Ivan Voinov (NA) 6-4, 6-4
Doubles
#1 Will Nocito/Brian Rosario (SA) def. Andrew Xu/Andrew Chuirazzi (NA) 6-4, 5-7 (*NA Retired)
#2  Mark Chuirazzi/Jerry Huang (NA) def. Dylan Parda/Neil Rana (SA) 7-6 (1), 3-6. 7-6 (4)