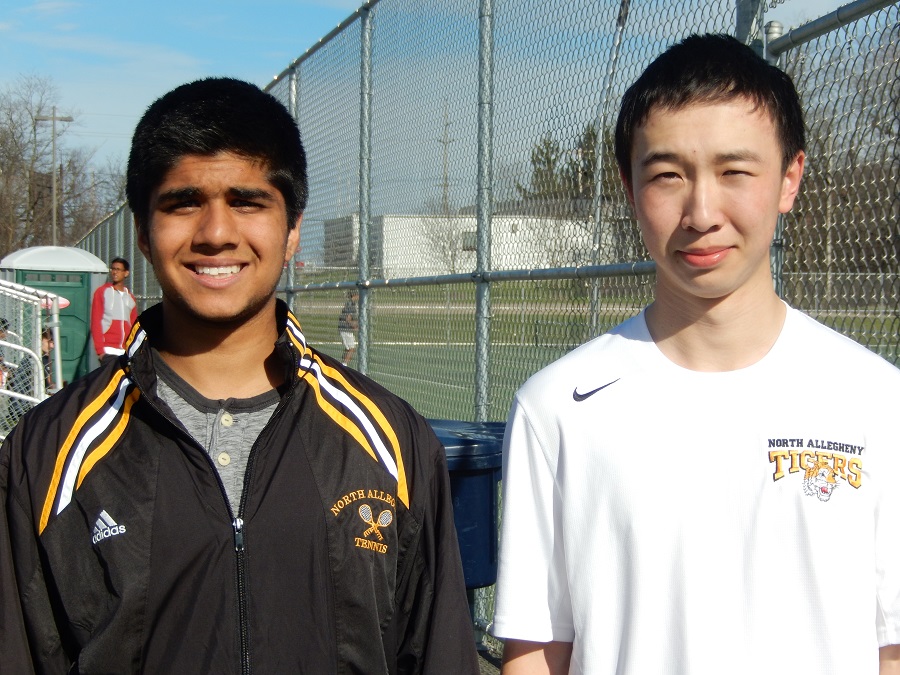 Tigers Start Second Half With Big Win Over Shady Side Academy
The Tigers took to their home courts to begin the second half of WPIAL action Wednesday afternoon by hosting formidable and long-time rival, Shady Side Academy. In a drawn out battle on a picture-perfect day, the Tigers defeated their Section 3 opponents by a tight 3-2 margin.
Senior Jared Isaacs began the hit parade by controlling Cooper Kann at number one singles in straight sets.  Sophomore Richard Hofmann followed within minutes at number two singles as he also defeated a member of the Kann family, Michael, in straight sets.   The Chuirazzi brothers (sophomore Andrew and freshman Mark) competed for the first time together in varsity action at number one doubles.  They played gamely and set the stage for the deciding match to come.  With the Tigers leading 2-1 and #3 singles starter sophomore Ivan Voinov tied up in a three set match, all eyes turned to the second doubles combo of senior Apoorv Anand and freshman Jerry Huang.  After splitting sets with Neil Nath and Jai Garesh, Anand and Huang held serve to reach a 5-4 advantage and then broke to win the set and the match.
This impressive non-section victory puts the Tigers on solid footing for the second half of the campaign.  Thursday afternoon they travel to Butler to resume Section 2 play.  Match time is scheduled for 3:30 PM.
Match Summary 4/13/2016
North Allegheny—3   Shady Side Academy—2
Singles
#1 Jared Isaacs (NA) def. Cooper Kann (SSA) 6-1, 6-2
#2 Richard Hofmann (NA) def. Michael Kann (SSA) 6-1, 6-3
#3 Tanay Kumta (SSA) def. Ivan Voinov (NA) 3-6, 6-3, 6-4
Doubles
#1 Namau Dua/Glaytron Guyaux (SSA) def. Andrew Chuirazzi/Mark Chuirazzi (NA) 6-4, 6-4
#2  Apoorv Anand/Jerry Huang (NA) def. Neil Nath/Jai Garesh (SSA) 6-2, 4-6, 6-4