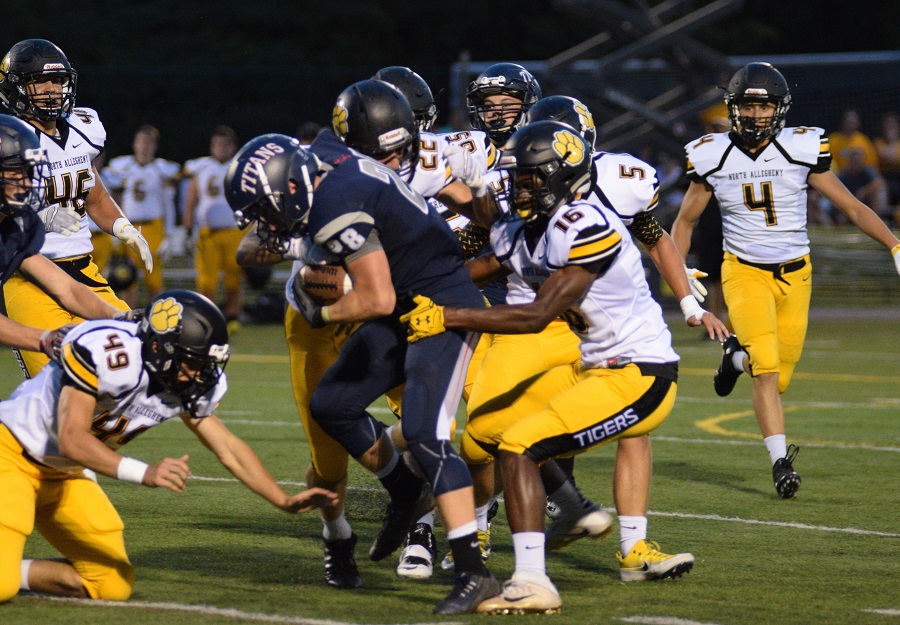 Tigers Steamroll Shaler, 49-0
Sparked by three Ethan Maenza touchdowns, the North Allegheny Tigers routed the Shaler Titans for a 49-0 road victory in Northern Seven Conference play on Friday night. Maenza, who made his return from an injury that forced him to miss last week's game, rushed for two touchdowns and passed for another in an explosion of points in the opening stanza. Finishing with 77 yards rushing and 154 yards passing, Maenza was named the Wright Automotive Player of the Game by the North Allegheny Sports Network.
The Tigers opened the game with a four play, 77-yard drive that was capped on a 4-yard rushing touchdown by Maenza for a 7-0 lead with 10:22 on the first quarter clock. Shaler's first play from scrimmage ended in disaster when linebacker Ryan Langdon intercepted a Daren Mizgorski pass and returned it 34-yards for a touchdown and a 14-0 advantage.
With Shaler's offense going nowhere in the first quarter, North Allegheny continued to pour on the points with a 1-yard rushing touchdown from Maenza and a 50-yard touchdown pass by Maenza to receiver Niko Mermigas to bring the score to 28-0, Tigers. Mermigas totaled two receptions for 72 yards in the win.
In the second quarter, Mike Pope found pay dirt on a 4-yard rushing score as the Tigers' lead swelled to 35-0 with 9:11 to play before halftime. Pope carried the ball six times for 59 yards and averaged 9.8 yards per carry in the contest. Late in the quarter, North Allegheny added another touchdown courtesy of a 7-yard touchdown jaunt by Dante Caputo for a commanding 42-0 halftime lead.
With mercy rule clock running in the second half, North Allegheny tacked on one more touchdown thanks to a 5-yard rushing touchdown by Matt Como in the third quarter to close out a 49-0 victory.
In a one-sided performance, the Tigers outgained Shaler in total yardage, 410-83, and forced two turnovers on defense. The shutout was the first for NA defense since the Tigers blanked Upper St. Clair, 24-0, in the first round of the WPIAL playoffs on October 31, 2014. For a look at the final stats, click here.
With the win, North Allegheny improves to 2-2 overall and 1-1 in the Northern Seven Conference. Shaler remains winless at 0-4 overall and 0-2 in the conference. The Tigers return home next Friday to host the Butler Golden Tornado.