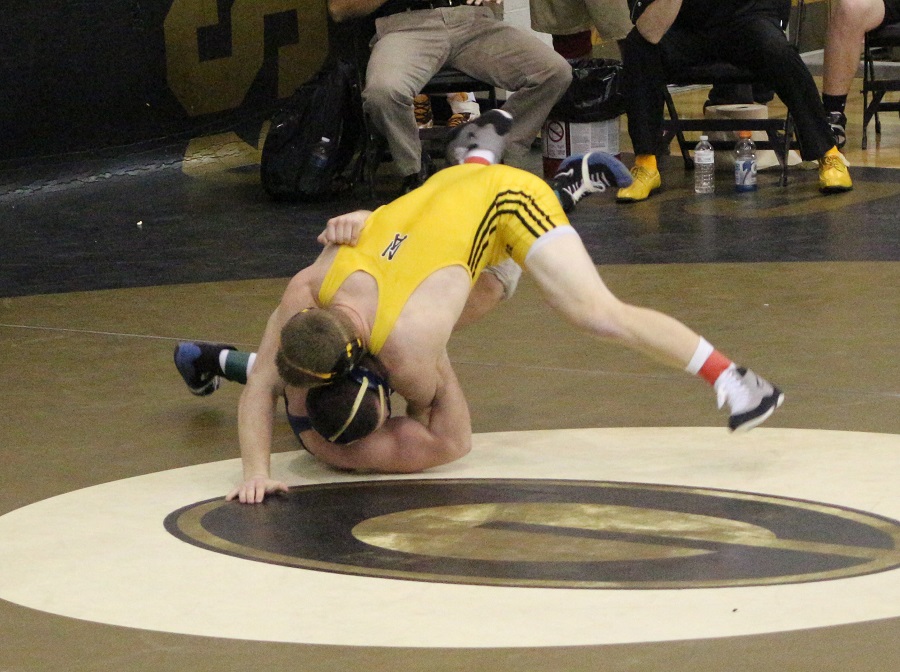 Tigers Stomp Seneca, 48-15
The North Allegheny grapplers started the night with four straight pins and never looked back on their way to a 48-15 win over Seneca Valley in the Section 3-AAA opener on Wednesday night. The Tigers flexed their muscle with seven total falls and senior Clay Byerly set the tone in the first bout of the night at 182 pounds with a pinfall over Raiders senior Brad Hensler just 49 seconds into the first period. Byerly was named the Wright Automotive Wrestler of the Match for making quick work of Hensler in the meet's opening bout.
Following Byerly's example, Zach Smith, Jeff Clemens and Layne Skundrich delivered first period falls to give the Tigers a 24-0 lead.  The Raiders trimmed the score to 24-12 with four straight decisions courtesy of Louis Newell, Alex Lynch, Ben Lynch and Ty Gross.  NA sophomore Will Baierl swayed the momentum back toward the Tigers with a 6-4 overtime decision over Alex Fisher.  The lead changed hands four times in the 132 pound bout, but Baierl outlasted Fisher for the overtime victory.
After Baierl's triumph, the Tigers rolled off four more consecutive wins, including falls by A.J. Boeh, Ben Sippel and Sean Hoover.  Sean Kalmeyer's 7-0 decision over Gavin Funovits at 145 pounds was the meet clinching victory for the Tigers.
North Allegheny starts the season at 1-0 while Seneca Valley sits at 0-1.  The Tigers will take part in the Central Mountain Tournament this weekend before visiting Knoch next week in section action.
Wrestling Match Summary: NA vs. Seneca Valley
| Weight | Wrestlers | Score |
| --- | --- | --- |
| 182 | Clay Byerly (NA) pinned Brad Hensler (SV) | 0:49 |
| 195 | Zach Smith (NA) pinned Lucas Chieppar (SV) | 0:55 |
| 220 | Jeff Clemens (NA) pinned Ben Bablak (SV) | 1:19 |
| 285 | Layne Skundrich (NA) pinned Dante Santelli (SV) | 0:31 |
| 106 | Louis Newell (SV) dec. Jacob Downing (NA) | 6-3 |
| 113 | Alex Lynch (SV) dec. Gabe Falo (NA) | 5-0 |
| 120 | Ben Lynch (SV) dec. Zach Stedeford (NA) | 4-1 |
| 126 | Ty Gross (SV) dec. Harley Hartle (NA) | 6-4 |
| 132 | Will Baierl (NA) dec. Alex Fisher (SV) | 6-4 (OT) |
| 138 | A.J. Boeh (NA) pinned Tyler Smith (SV) | 1:57 |
| 145 | Sean Kalmeyer (NA) dec. Gavin Funovits (SV) | 7-0 |
| 152 | Ben Sippel (NA) pinned Daniel Sullivan (SV) | 3:26 |
| 160 | Sean Hoover (NA) pinned Zac Cowell (SV) | 1:07 |
| 170 | Austin Leon (SV) dec. Jake Woodley (NA) | 6-4 |