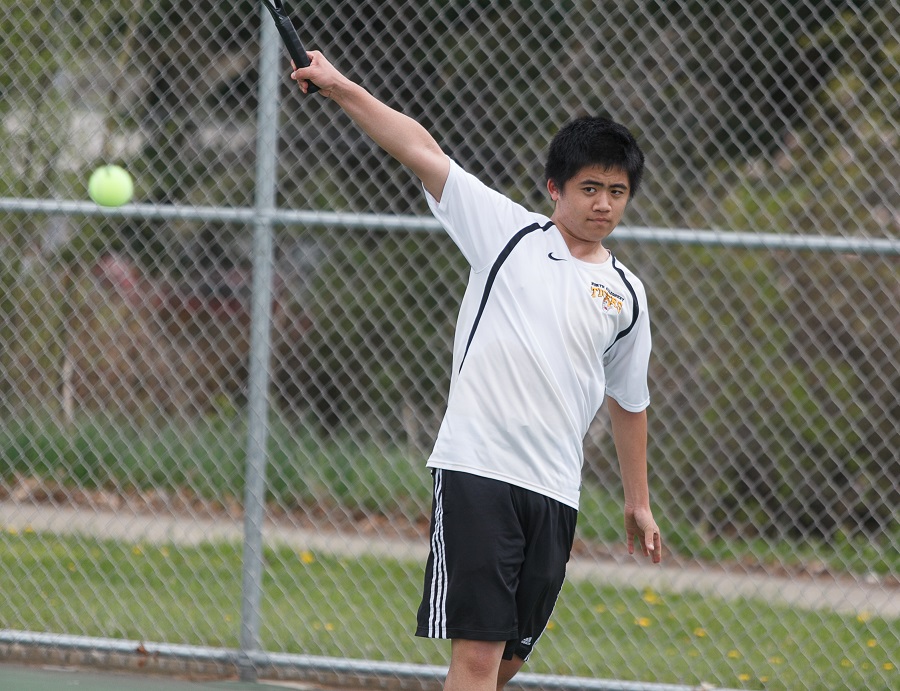 Tigers Suffer First Loss of the Season, 3-2, on the Road at Mars
Playing with a revamped lineup due to the illness of one of its starters, the Tigers tangled with the Mars planets Wednesday afternoon and fell for the first time in 2015 in a critical Section 2 match.
The long afternoon began with junior Andrew Xu sweeping his opponent at number three singles.  Mars evened the match with a win at 2nd singles.  The Tigers then fell behind after a loss at number one doubles.  At that point, junior Jared Isaacs was engaged in a heated re-match with Section 2 champion Josh Raymundo which fell in Mars favor for the 3-2 win.  Rounding out play for the Tigers were senior Eric Huang and freshman Andrew Chuirazzi at number two doubles, taking a hard fought, three set win.  The Tigers' record falls to 6-1 on the season with a corresponding 4-1 section mark.
Next up for Jared Isaacs will be the WPIAL Singles Championship Tournament, slated to start Tuesday, April 7 at 1 PM on the NASH courts.  The entire team will return to action against the Allderdice Dragons on Thursday, April 9, starting at 3:30 on the NASH courts.
Match Summary (4/1/14)
Match 1:  Mars Area 3  —  North Allegheny 2
Singles
#1  Josh Raymundo (Mars) def. Jared Isaacs (NA) 7-6 (2), 1-6, 6-4
#2  Aaron Gruber (Mars) def. Ivan Voinov (NA) 6-7, 7-6 (1)
#3  Andrew Xu (NA) def.Tim Hunt (Mars) 6-1, 6-1
Doubles
#1   Alex Gruber/Noah Raymundo (Mars) def. Michael Helkowski/Apoorv Anand (NA) 6-4, 5-7, 6-0
#2  Eric Huang/Andrew Chuirazzi (NA) def. Noah Hudac/Drew Ellis (Mars)  4-6, 7-5, 6-1