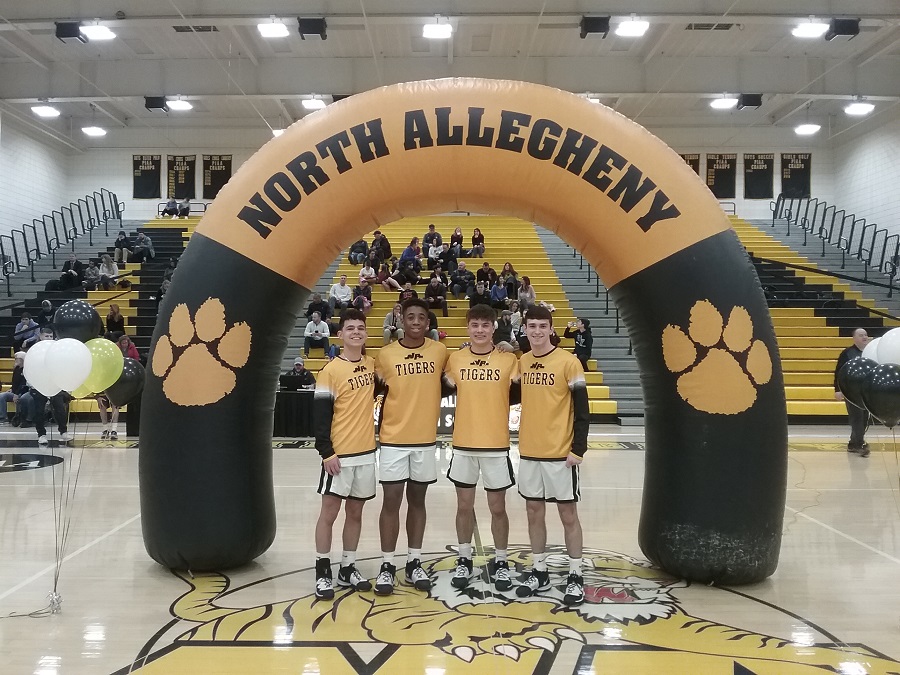 Tigers Nipped By Raiders On Senior Night, 49-46
by Jonathan Spina
The Tigers fell behind early, fought back, but were not able to overcome the Seneca Valley Raiders, 49-46, on senior night. It was Seneca Valley's first section win of the season.
The Raiders jumped all over North Allegheny in the first quarter, getting out to a 15-4 lead four minutes in. The Tigers were able to cut the lead to single digits at halftime trailing 24-17. It really started to rain in the third quarter for North Allegheny, going 4 of 6 from 3-point range and cutting the lead to one heading into the fourth quarter. Zach Andreykovich had three three-pointers in the third quarter.
It was back and forth in the fourth quarter, and with under a minute to go, Luke Colella gave the Tigers a 46-44 lead hitting two free throws. Seneca Valley's Mason Bush answered with a layup and free throw to give the Raiders the lead back, 47-46. North Allegheny turned the ball over with 16 seconds left and had to foul. After two free throws from Seneca Valley's Cole Brooks, North Allegheny had to chance to tie the game, but a game-tying 3-point shot hit off the back iron and the Tigers fell, 49-46.
Andreykovich was the Wright Automotive Player of the Game scoring 12 points, all in the second half. Grant Timmerson led the Tigers with 14 points and 8 rebounds. Khalil Dinkins added 11 points and 9 rebounds.
North Allegheny falls to 3-6 in the section and 8-11 overall. The Tigers will head to North Hills Friday night with the winner of that game heading to the playoffs and the loser's season ending. That game will be broadcast live on the North Allegheny Sports Network and is the PlayerPager Big 56 Game of the Week.
Boys Basketball vs. Seneca Valley, 1-31-20
| GAME SUMMARY | | | | | |
| --- | --- | --- | --- | --- | --- |
| SCORE BY QUARTERS | 1 | 2 | 3 | 4 | FINAL |
| Seneca Valley | 15 | 9 | 13 | 12 | 49 |
| North Allegheny | 6 | 11 | 19 | 10 | 46 |