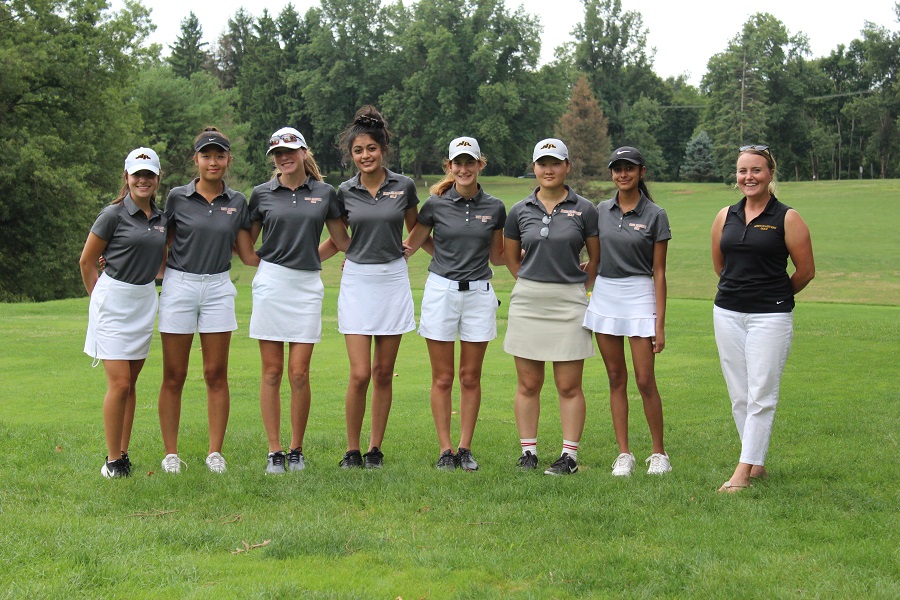 Tigers Swept In Section Tri-Match With Moon, Mars
The North Allegheny girls' golf team hosted a section tri-match on a sun-splashed Friday afternoon at Pittsburgh North Golf Course. The Tigers were swept on the day, dropping a 171-202 decision to Moon and taking a 197-202 loss against Mars.
Sophomore Katie Rose Rankin had a strong performance with a team-best score of 41. Sophomore Lauren Kardos shot a 43, followed by Yunshu Li and Shriya Suresh who shot a 55 and 63, respectively. Mars was paced by Victoria Witouski and Moon boasted the clubhouse leader, Rhianna Firmstone, who posted a score of 40.
North Allegheny falls to 2-2 overall and 1-2 in section play. The Tigers look to bounce back on Tuesday with a non-section contest against Penn-Trafford.
Match Summary
MOON - 171
MARS - 197
NORTH ALLEGHENY - 202
NORTH ALLEGHENY
SCORE
MOON
SCORE
MARS
SCORE
Katie Rose Rankin
41
Rhianna Frimstone
40
Victoria Witouski
44
Lauren Kardos
43
Julia Parthelemy
47
Sofia Miestra
56
Yunshu Li
55
Marley Leach
43
Allie Rice
46
Shriya Suresh
63
Alizbeth Cross
41
Danielle Sticinski
51
TOTAL
202
171
197