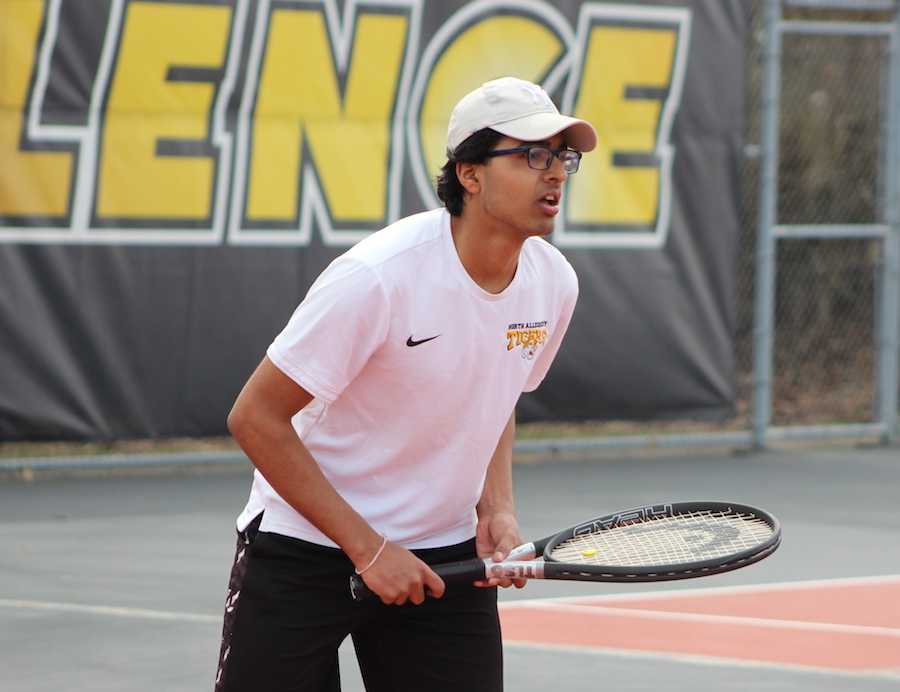 Tigers Tackle Trojans of McDowell in PIAA First Round
Playing a revamped lineup due to injuries and PIAA regulations, the Tigers kicked off the State 3A playoff competition in Erie at the Westwood Racquet Club Tuesday afternoon.  The District 10 champion Erie McDowell Trojans fell to the WPIAL runners-up Tigers 4-1 in a contest where the North Allegheny depth and versatility came to the forefront.
Leading off the scoring at two doubles was the freshmen tandem of Matt Kampi and Adhav Ramadas who defeated Dan Idzik and Christian Neubert without losing a game.  Sophomore Sri Thirumala, regularly a doubles competitor, delivered the 2nd point at second singles over Sahil Jain, dropping only one game. The clincher was courtesy of two reserves playing first doubles, where junior Utkarsh Tiwari and sophomore Nitin Gupta tangled with Noah Hardesty and Gridley Wright.  After tying the first set at 5, the Tigers broke serve and held on in a tight deuce game to secure the set 7-5.  They then went on to take control of the second set and gain the match point.  Junior Amit Bhandari, a doubles veteran, was pressed into service at third singles where he dominated but was forced to retire in the 2nd.  Rounding out play, freshman Evan Kaufman mailed home the fourth point in his debut at first singles by beating the District 10 singles champion, senior Aaron Heinlein, in straight sets.  Kaufman kept the McDowell veteran off guard with an outstanding assortment of shots while also deftly mixing up the pace during the contest, consistently holding serve.
With the first round PIAA win, the Tigers improve to 14-1 on the season. North Allegheny will now travel to Hershey to take on the District 1 champs and defending state 3A champions, Lower Merion from suburban Philadelphia, in the quarterfinal round.  Match time for Friday, May 19, is set for 2:30 PM at the Hershey Racquet Club.
Match Summary – 05/16/2023
PIAA 3A Team Championship-First Round
North Allegheny 4, Erie McDowell 1
Singles
#1 Evan Kaufman (NA) def. Aaron Heinlein (EMc) 6-4, 6-2
#2 Sri Thirumala ((NA) def. Sahil Jain (EMc) 6-1, 6-0
#3 Eric Cui (EMc)) def. Amit Bhandari (NA) 2-6, 2-3 (Bhandari DNF)
Doubles
#1 Utkarsh Tiwari/Nitin Gupta (NA) def. Noah Hardesty/Gridley Wright (EMc) 7-5, 6-2
#2 Matt Kampi/Adhav Ramadas (NA) def. Daniel Idzik/Christian Neubert (EMc) 6-0, 6-0