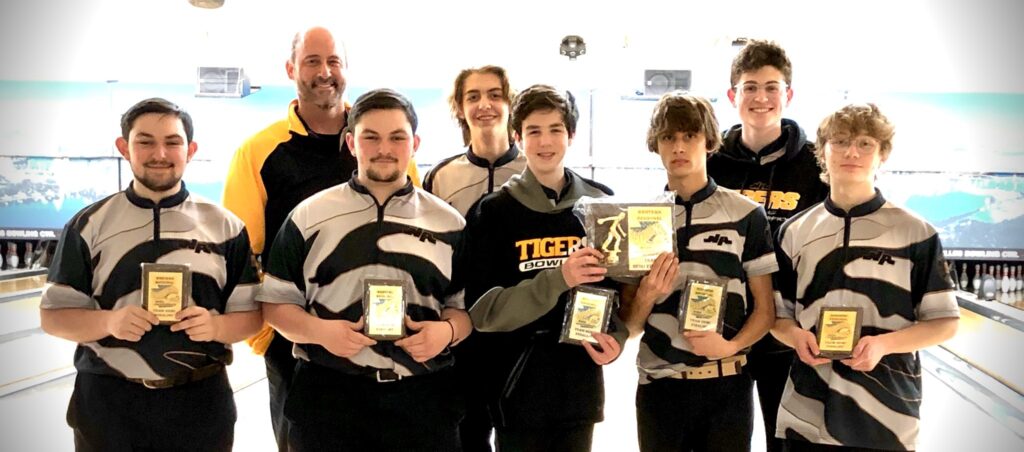 Tigers Take 2nd Place At PA Western Regional
The North Allegheny boys' bowling team took second place at the 2022 Pennsylvania Western Regional Team Championships on Saturday. The Tigers tallied a team score of 4054, not only good for second place but also earning the team a spot in the Pennsylvania State Championships for an opportunity to defend their title. For a look at the team scores, click here.
Individually, North Allegheny seniors Gavin Rush and Jeb Jorden were named to the 2022 PA Western Regional All-Tournament Team. Jordan led the field of 100 bowlers with a 702 series. Rush's 638 was the fourth highest series of the day. For a look at singles scores, click here.
(More to come).
Congrats to seniors Gavin Rush and Jeb Jorden for being named to the 2022 Pennsylvania Western Regional All-Tournament Team. Jorden led the field of 100 bowlers with a 702 series. Rush's 638 was the 4th highest series of the day. #Road2States2022 @NATigerAthletic @ndirdaNA pic.twitter.com/nvdqOdoJ1a

— NA Bowling (@NATigerBowling) March 6, 2022