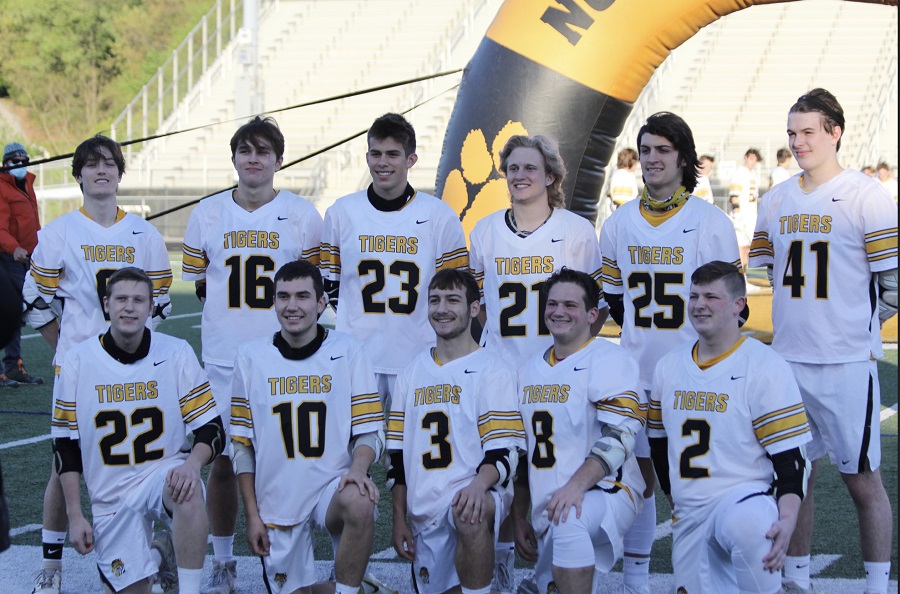 Tigers Take Care Of Knights In Final Section Match
by Jared Barton
North Allegheny scored the first 10 goals of Senior Night and took down section foe Norwin 14-2 at Newman Stadium Wednesday evening.
Senior Nick Eck got the scoring started just two minutes into the opening quarter off a feed from fellow senior Mason Kress. Later in the quarter, Norwin goalkeeper Nolan Mullen was assessed a major foul and was ejected from the contest, leading to a non-releasable man-up opportunity for the Tigers. Sophomore Christian Tedder set up classmate Marc Bartolomucci for goal. Bartolomucci added a second marker with less than a minute to go in the first quarter.
Early in the second, Eck added to the lead with his second of the game, assisted by junior Cole Bordo. Less than a minute later, the duo would switch roles, and Eck fed Bordo to make the score 5-0. Bordo added his second of the game just over two minutes later. Eck secured the hat trick with two minutes left in the half, and the Tigers added scores from seniors Andrew Myers and Ben Rohan to take a 9-0 lead midway through the contest.
Bordo scored a hat trick just minutes into the third quarter, but Norwin broke the scoreless drought on a shot from senior Hunter Geibel. Bordo and Eck eached notched their fourth goals of the game to end the third.
Bordo tacked on a fifth marker during a man-up opportunity with 11:29 left in the game.  Geibel added a second goal in garbage time, while Myers tallied his second of the contest with four minutes left.
Eck finished the match with a game-high nine points, while Bordo was right behind him with six points.
The Wright Automotive Player of the Game was awarded to all of the graduating seniors celebrating a successful senior night and 2021 regular season.
The Tigers have one more match before the playoffs. NA travels to Peters Township Thursday night at 7:30 p.m. The WPIAL Girls and Boys Lacrosse Playoff pairings are set to be released Thursday as well, with postseason action beginning May 17th.