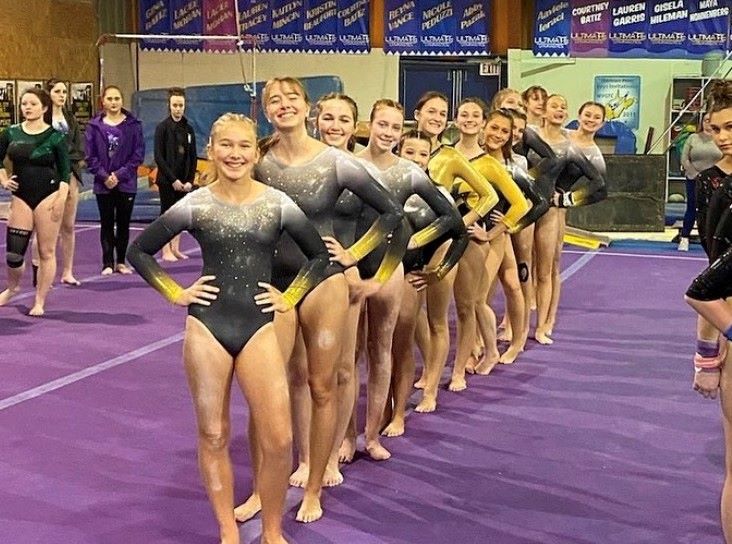 Tigers Take Part In WPIAL Championships
The North Allegheny gymnastics team took part in the WPIAL championships this weekend at Moon High School. On Friday night, Moon defended its WPIAL crown and won its eighth WPIAL title overall.
On Saturday, the WPIAL individual championships were held and there were several outstanding performances from NA gymnasts. Junior Sophie Aglietti dazzled in the floor event with a score of 9.1. Sophomore Juliet Hood was spectacular on the beam with a score of 9.175 and added an 8.375 on the bars. Freshman Julia Fortunato was impressive in the vault event with a score of 8.675.
A steady all-around was delivered by junior Gabbi Stegeman with a total score of 33.15. Junior Jena Karlovits posted an all-around of 31.85 and freshman Sarah DeJonckheere added an all-around of 31.625. Additional NA scores are listed below.
North Allegheny concludes an impressive 2022-2023 season. Congratulations to head coach Nicole Bova and the entire team for a terrific season.
Gymnastics WPIAL Championship Summary
| Gymnast | Vault | Bars | Beam | Floor | All-Around |
| --- | --- | --- | --- | --- | --- |
| Sophie Agietti | 8.4 | | | 9.1 | |
| Juliet Hood | 8.65 | 8.375 | 9.175 | | |
| Devyn Horner | 8.35 | | | | |
| Masha Dudina | 8.15 | | | | |
| Gabbi Stegeman | 8.25 | 7.75 | 8.525 | 8.625 | 33.15 |
| Sarah DeJonckheere | 8.55 | 7.475 | 7.85 | 7.75 | 31.625 |
| Julia Fortunato | 8.675 | | 7.95 | 8.075 | |
| Lily Grbach | 8.0 | | | | |
| Vivienne Hood | 7.8 | | | | |
| Jena Karlovits | 8.4 | 7.375 | 7.95 | 8.125 | 31.85 |
| Kirsten Karlovits | 8.4 | 8.275 | | 8.2 | |
| Sarah Killen | 7.7 | | | | |