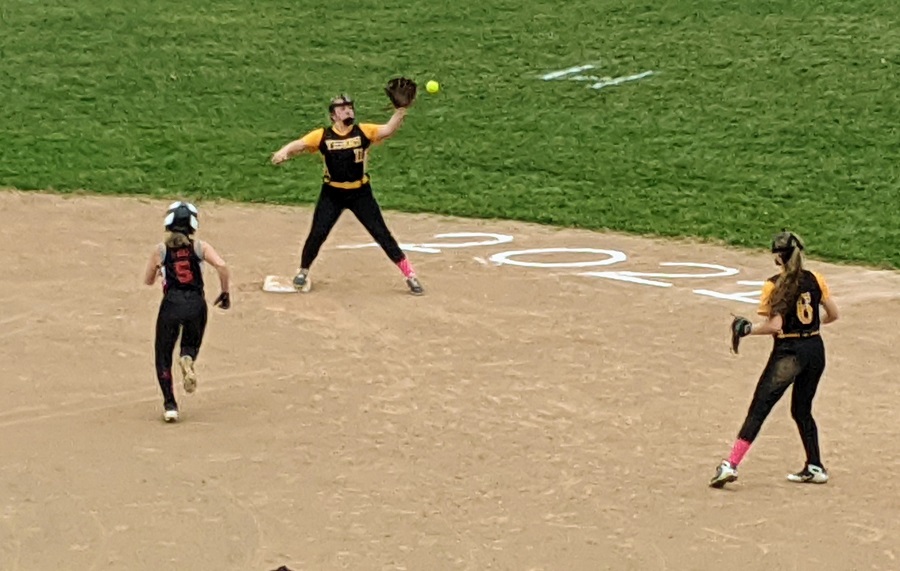 Tigers Take Two From Peters Township
North Allegheny's Slow-Pitch Softball team won with two strong victories, 11-5 and 15-5,  in Peters Township on Sunday.
NA got things started in the first inning when senior Lizzie Wetmore homered on a 1-1 count, scoring two runs.
In the bottom of the fourth inning, Peters Township tied things up at five, but NA  put up three runs in the sixth inning, with junior Nikki Crean and sophomore Helen Katyal, knocking in runs.
Junior Evelyn Wiethorn had a great game pitching –  she allowed thirteen hits and five runs over seven innings, striking out one and walking zero.  The best play of the game goes to sophomore Katyal with a phenomenal catch in right center when she snagged the ball over the fence and prevented 3 runs from scoring.
The Tigers racked up 14 hits in the game. Katyal, Wetmore, Crean, junior Sydney Besket, and Wiethorn each collected multiple hits for NA.. Katyal led with three hits in four at bats.
In game two, NA  opened up scoring in the first inning. Senior Katie Marangoni singled on a 3-1 count, scoring one run.  They went on to score five runs in the sixth inning. The offensive onslaught  was led by Crean, Marangoni, senior Madi Klinefelter, and sophomore Riley Yates, all driving in runs in the frame.
Wiethorn pitched six innings, allowing five runs on 11 hits and striking out one.
NA launched two home runs on the day. Crean went deep in the sixth inning. Wiethorn went for the long ball in the fourth inning.  NA  had 17 hits in the game. Marangoni,  Senior Claire Medic, senior Carly Snyder, Wetmore, Besket, and Wiethorn all collected multiple hits for NA. Marangoni went 3-for-4 at the plate to lead NA in hits for game two.
With the sweep, North Allegheny improves to 9-3 on the season. The Tigers will host North Hills on Sunday, Oct. 18 in the regular season finale.