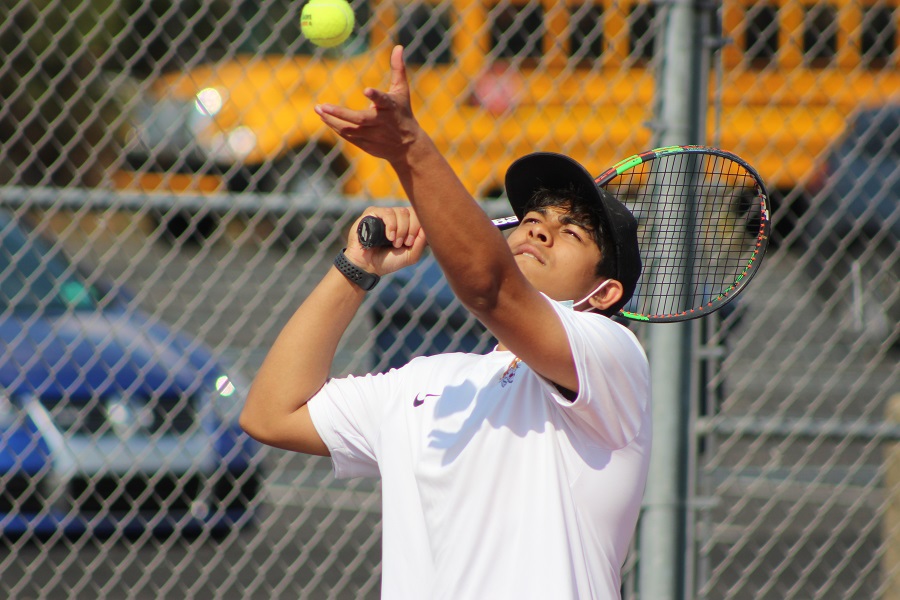 Tigers Tame Central Catholic Vikings, 3-2, in Non-Section Match
The Tigers returned to team play by welcoming the Section 3 Central Catholic Vikings to NASH for a late-season exhibition match Friday afternoon that proved to be a solid competition for both squads.  When play was completed, the Tigers prevailed by a 3-2 margin.  Opening the scoring, sophomore Raj Ginde took the measure of Yousei Fukasaku in straight sets, losing only two games in the process.  Next up, and teaming together for the first time, senior Greg Phillips and junior Arnav Ranade took the second doubles in straight sets, but in an unusual fashion.  They did not lose a game in the first set but saw themselves down 5-2 in the second set.  They rallied to force a tie break and then dominated the "overtime" to beat Matt Luckiewicz and Cooper Luedde 7-2.  The clinching point came from number two singles where junior Shomik Telang defeated Anthony Arshoun in straight sets.
Rounding out play, sophomore Sri Bellamkonda and junior Milun Jain battled to the end at number one doubles.  Losing a tight first set, the duo bounced back resoundingly and lost only one game in the second set.  With the Tigers holding a 5-4 lead in the third, Central's Ryan Broadhurst and Jack Sabo reeled off two service breaks sandwiched around a service hold to take the set and match.  Senior Chase Davidson fell to Central's Kyle Broadhurst at one singles.
With the win, the NA Tigers improve to 10-1 on the season.  They now look forward to their seventh and final Section 2 contest Monday afternoon when they travel to Sewickley to tangle with the Panthers.  Match time is scheduled for 4 PM at Nichols Field.
Match Summary – 04/23/2021
North Allegheny  3    Central Catholic  2
Singles
#1  Kyle Broadhurst (CC) def. Chase Davidson (NA) 6-4, 6-1
#2  Shomik Telang (NA) def. Anthony Arshoun (CC) 6-4, 6-2
#3  Raj Ginde (NA) def. Yousei Fukasaku (CC) 6-1, 6-1
Doubles
#1   Ryan Broadhurst/Jack Sabo (CC) def. Srivatsa Bellamkonda/Milun Jain (NA) 6-4, 1-6, 7-5
#2  Greg Phillips/Arnav Ranade (NA) def. Matt Luckiewicz/Cooper Luedde (CC) 6-0, 7-6 (2)