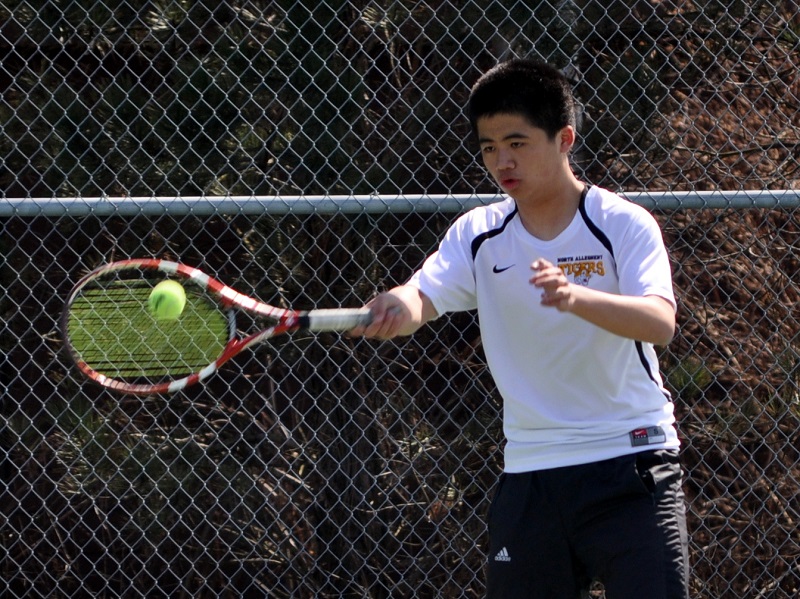 Tigers Tennis Opens Season With Win Over Peters Township
Traveling to Peters Township on a spring-like winter day, the Boys' Tennis team took on their Section 5 rivals to open the regular season with an exhibition match.  When the contest was completed the Tigers returned to Wexford with their first win, a 4-1 decision over the Indians. 
Senior Kylie Isaacs, and sophomores Andrew Xu and Jared Isaacs controlled the action with straight set wins at all three singles positions.  Varsity newcomers, junior Michael Helkowski and sophomore Apoorv Anand, took the 2nd doubles match in straight sets. Junior Eric Huang and freshman newcomer Ryan Marczak fell in three sets with a valiant effort at number one doubles. 
After a postponement with Mt. Lebanon (to be re-scheduled), the Tigers open Section 2 play Friday afternoon with rival Pine-Richland.  Match time on the NASH courts is scheduled for 3:30 PM.
Match Summary, Tuesday, March 11
North Allegheny 4–Peters Township 1
Singles
#1  Kylie Isaacs (NA) def. Mitch Kreider (PT) 6-1, 6-1
#2  Andrew Xu (NA) def. Brendon Dollard (PT) 6-1, 6-0
#3  Jared Isaacs (NA) def. Ryan Farrell (PT) 6-2, 6-2
Doubles
#1  Miguel Ascensio/Nathan Wang (PT) def. Eric Huang/Ryan Marczak (NA) 6-3, 2-6, 6-1
#2  Michael Helkowski/Apoorv Anand (NA) def. Zenas Zhuang/Jordan Dollard (PT)  7-5, 6-2