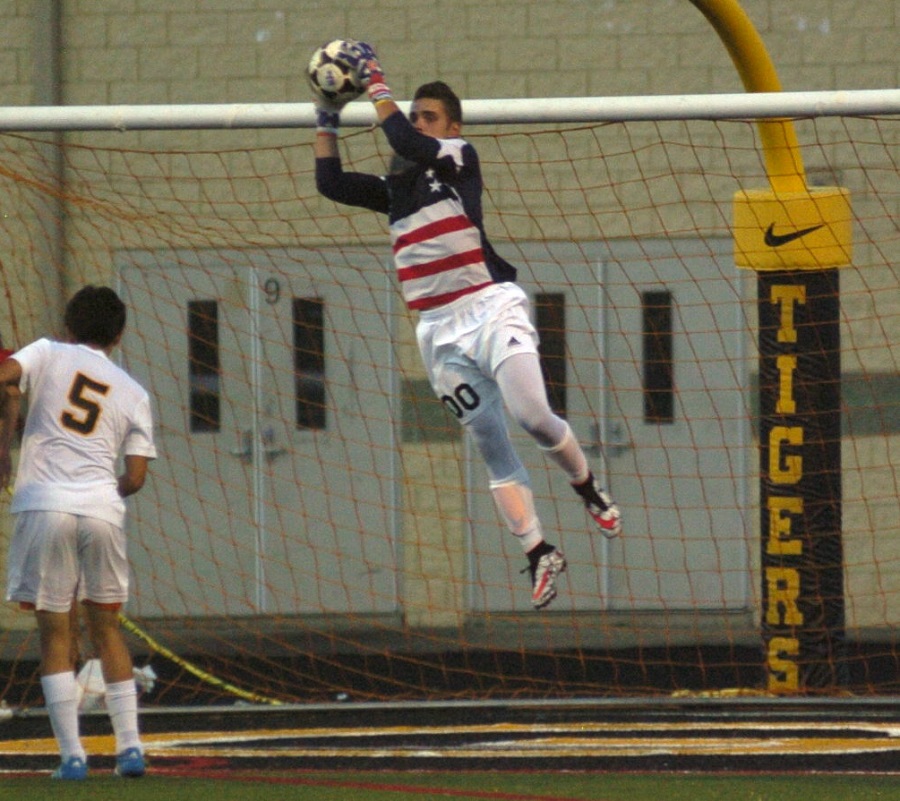 Tigers Tie Last Year's State Runner-Up Seneca Valley, 1-1
By Boys' Soccer Contributor
In a game of unbeaten teams heading into their first section contest this looked like an exciting match and the teams didn't disappoint. At the end of the night, both teams remained undefeated following a 1-1 tie at NexTier Stadium on Tuesday night.
Seneca Valley used its speed up top and at 37:04 got past the defense but the shot hit the left post, then glanced off the right post when Tiger goalie Grant Glorioso was able to corral it in before the Raiders could finish.  James Nolan had a shot on goal at 35:55, and Jack Passodelis as well from 30 yards out, to keep their own pressure on the Raiders.  Roman Rainville, at 16:55, had a nice cross to Ben Cinker in front of the net but was denied by the Seneca Valley goalie.  Glorioso again made crucial saves at 14:55 and at 0:33 to keep the game scoreless at halftime. Shots on goal were even at three apiece for the half.
North Allegheny started the second half strong as Coach Bobby Vosmaer was urging for pressing play, and at 37:04 Owen Leonard put on shot on frame.  At 22:09, the Tigers earned a corner and Rainville from the right side lined a perfect ball in front of the net that Cinker volleyed into the back of the twine giving NA a 1-0 lead on the road. Unfortunately for the Tigers, after a throw in at 14:48, a Seneca defenseman rocketed a ball from 15 yards out and tied the score 1-1.  On this night though the North Allegheny defense continued to play strong with junior inside backs Nick Williams and Christian Giannetti leading the way by clearing numerous balls headed for the Seneca fast and furious attack.  Glorioso continued to make pivotal saves during the half to keep the game tied 1-1 at the end of regulation.  Again the shots on goal for the period totaled three each, while Seneca Valley had a major advantage in free kicks and corners throughout the game.
The game went to two, ten-minute sudden-death overtime periods and in the first OT session, Seneca Valley had a quick opportunity on goal at 7:55, while Cinker at 3:20 and Nolan at 1:30 had chances for the Tigers on frame.  The second overtime had quite the excitement as yellow cards were issued to both teams and Seneca Valley having quality shots at 2:04 and 1:29, but Glorioso continued to say no. The game ended in a 1-1 well-deserved tie for the Tigers who kept their undefeated season alive with a 3-0-2 record.
The Tigers are next in action this Thursday at home versus the Shaler Titans who won their first section game versus Butler, 1-0, and looks to be another early season pivotal section game at 7 p.m.
Boys Soccer Summary vs. Seneca Valley, 9-13-16
| GAME SUMMARY | | | | | |
| --- | --- | --- | --- | --- | --- |
| SCORE BY HALVES | 1 | 2 | OT1 | OT2 | FINAL |
| North Allegheny | 0 | 1 | 0 | 0 | 1 |
| Seneca Valley | 0 | 1 | 0 | 0 | 1 |