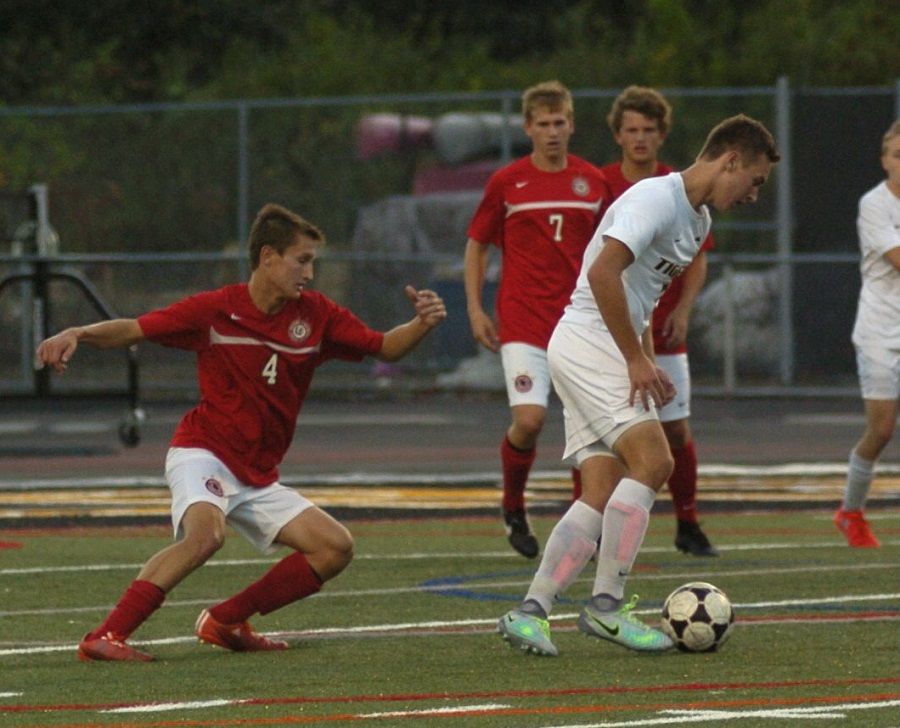 TIGERS TIE PETERS TOWNSHIP 0-0 IN OT
by Boys Soccer Contributor
Undefeated North Allegheny hosted Soccer Fest at Newman Stadium today where they faced a WPIAL ranked opponent in the Indians of Peters Township and came away with a 0-0 tie.  NA showed that they can play with anyone this season with or without leading scorer Josh Luchini who was on the sidelines with an injury.  Though the Tigers only had three shots in the first half, the Peters Township squad only attempted one and that was with 35 seconds remaining in the half. North Allegheny controlled the tempo and the ball, but the game was tied 0-0 at half.
The Tigers started off strong in the second half with Cam Yurick and James Nolan both putting headers on frame, while Owen Leonard sent one that just went wide.  North Allegheny got some quality first time varsity minutes from junior defenseman Isaac Ciocca  and freshman forward Jonathan Ross that helped put the pressure on with crosses and offensive runs in the Peters zone.  Goalie Grant Glorioso made an exceptional save at 26:28 from an uncontested Peters player to keep the game scoreless from 15 yards out.  With 11:50 remaining, NA had a great scoring opportunity on passes built up from Ross to Jack Leonard who found Stanley Owens coming towards the net, but pushed the ball wide.  Again at 11:30 Glorioso made another game saving save and kept Peters off the board with the second half ending 0-0.
Vosmaer's squad came out determined in the first overtime period as Ben Cinker's shot went wide at 8:25 from in front of the net, and Leonard's shot from 20 yards out was saved by the Peters keeper.  With just over two minutes left in the first OT Glorioso made another save and shortly thereafter the game was called due to lightning and ended in a 0-0 tie. The Tigers tallied 4 shots between the second half and overtime while Peters only notched 3.  Glorioso and his defense earned a second shutout.
The Tigers take on undefeated  Seneca Valley this Tuesday away at 7:30 p.m. in what will be a greatly contested matchup of perennial section powers.  Last season the NA squad broke the Raiders long section winning streak and look to continue their ways in this early season matchup.