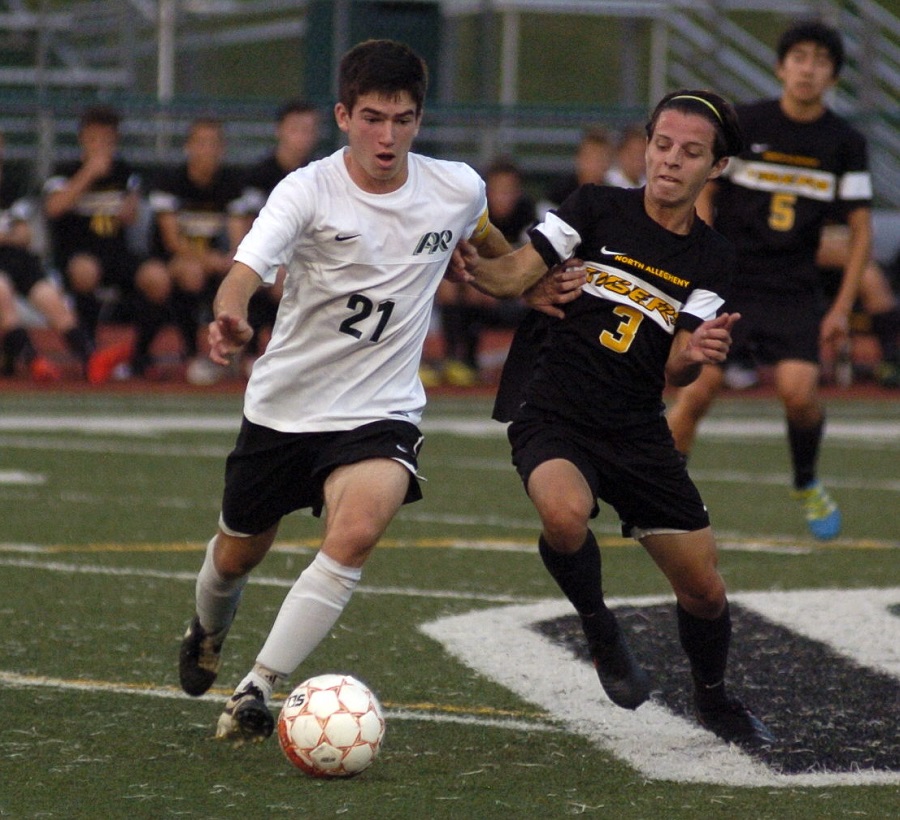 Tigers Tie Pine-Richland, 0-0
The North Allegheny Tigers fought the Pine Richland Rams to a hard-fought 0-0 tie in front of a boisterous crowd on Pack the Pitch night Tuesday at Newman Stadium.
 The first half began with the Tigers putting pressure on the Rams' defense with pressure from
Owen Leonard
and
Ben Cinker
as well as 3 early corner kicks.  However the Tigers couldn't take advantage and the game soon settled into a defensive battle as both squads had their offensive efforts denied by strong play on the part of the defense and the keepers.
The second half was more of the same as the Tiger defense, led by strong performances from Nick Williams, Ethan Schenk, Reggie Kossuth and Alex Goto kept the Rams at bay.  The Tiger offense was able to generate chances as Coach Bobby Vosmaer tried different personnel combinations but once again couldn't get that all-important first goal.  Ryan Earle fed a nice cross from the corner that was deflected just over the crossbar, and other shots were deflected or smothered by the Rams' defense.
The two overtime periods saw the Tigers with the better of the play and the chances but just as in regulation time unable to score.  
The tie gives the Tigers a section record of 4-1-3, good for second place in Section 1, and an overall record of 8-1-4.
The Tigers take on Butler Thursday night at Newman Stadium in another key Section 1 contest.