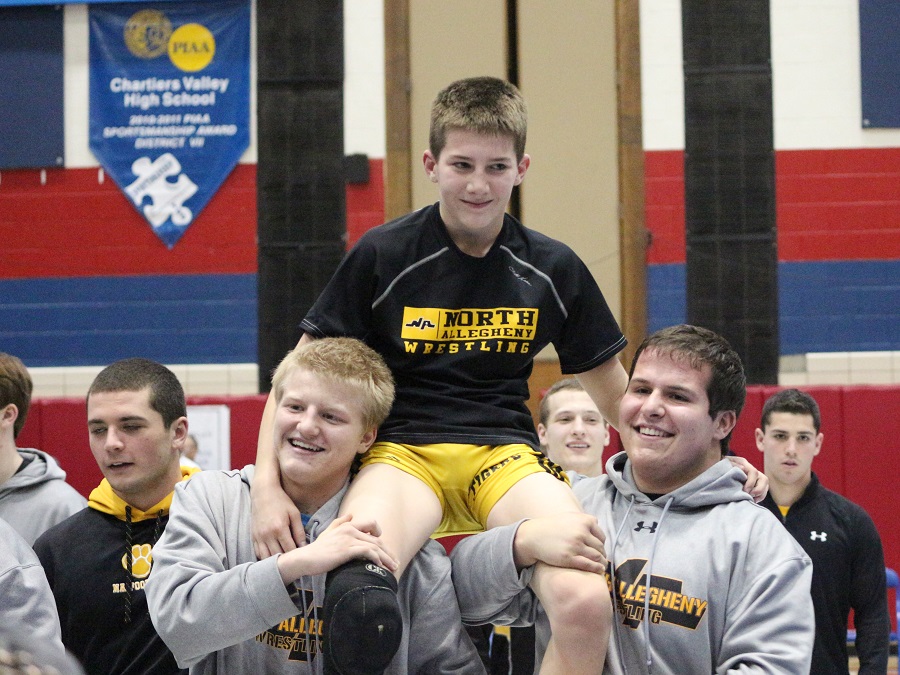 Tigers Top Big Macs, Advance To PIAA Team Tournament (Updated)
The North Allegheny Wrestling Team has advanced to the PIAA Team Tournament for the third straight year with a 29-28 victory over the Canon-McMillan Big Macs in the WPIAL Third Place Consolations on Saturday afternoon. 
With the Tigers leading 29-25 and a trip to PIAA's on the line, the match came down to the final bout at 106 pounds.  The Big Macs needed a major decision to tie and a tech fall to win, but the reigning WPIAL champions got neither as Zach Stedeford prevented Camden Fontenot from achieving his goal.  Stedeford did a tremendous job as he kept the match tight before dropping a 7-6 decision to Fontenot, which left the Big Macs one point short, 29-28. (Photo: Stedeford being carried off by his teammates following his bout with Fontenot).
In a nip and tuck battle, there were five bouts that were decided by a single point, with three of those bouts going to the Tigers.  Of the narrow wins for NA, Luke Landefeld (113) earned a 1-0 victory over Brendon Price, A.J. Boeh (138) scored a 3-2 win over Alec Hutchin, and Jake Woodley (160) topped Micah Kusturis for a 4-3 decision.
Woodley's decision at 160 pounds evened the score at 14-14, but CM's Nick Konyk followed with a tech fall at 170 to give the Big Macs a 19-14 lead.  That's when the NA grapplers rolled off a string of three consecutive victories that proved to be the deciding factor in knocking the kings of Class AAA off their thrown.
At 182, Colton Byerly trimmed the deficit with an 8-1 decision over Jesse Lesko, Clay Byerly gave NA the lead by pinning James Zeremenko at 195 pounds, and Zach Smith increased the lead to 29-19 with a fall over Alec Rideout at 220 pounds.
Keeping their hopes alive, CM's Brendan Furman picked a fall at 285 pounds to trim the NA lead to 29-25. That set the stage for the dramatic final bout in which Stedeford held off Fontenot just enough, keeping the Big Macs one point away in a, 29-28, North Allegheny victory.
The Tigers improve their record to 13-1 overall and will advance to the PIAA Tournament where they will wrestle the District 8 Champion, Taylor Allderdice, on Monday night in a pigtail match. The loss for Canon-McMillan ends a string of four consecutive WPIAL titles.
Wrestling Match Summary: NA vs. Canon-McMillan
WPIAL 3rd Place Consolations
| Weight | Wrestlers | Score |
| --- | --- | --- |
| 113 | Luke Landefeld (NA) dec. Brendan Price (CM) | 1-0 |
| 120 | Matt Oblock (CM) dec. Scotty Stossel (NA) | 3-2 |
| 126 | Dalton Macri (CM) dec. Dom Forys (NA) | 4-3 |
| 132 | Jake Hinkson (NA) tech fall Isaac Miles (CM) | 18-2 |
| 138 | A.J. Boeh (NA) dec. Alec Hutchin (CM) | 3-2 |
| 145 | Solomon Chishko (CM) tech fall Drew Landefeld (NA) | 22-6 |
| 152 | Malachi Krenzelak (CM) dec. Blynn Shideler (NA) | 3-0 |
| 160 | Jake Woodley (NA) dec. Micah Kusturis (CM) | 4-3 |
| 170 | Nick Konyk (CM) tech fall David Tallman (NA) | 16-0 |
| 182 | Colton Byerly (NA) dec. Jesse Lesko (CM) | 8-1 |
| 195 | Clay Byerly (NA) pinned James Zeremenko (CM) | 1:18 |
| 220 | Zach Smith (NA) pinned Alec Rideout (CM) | 1:18 |
| 285 | Brendan Furman (CM) pinned David Probert (NA) | 3:02 |
| 106 | Camden Fontenot (CM) dec. Zack Stedeford (NA) | 7-6 |