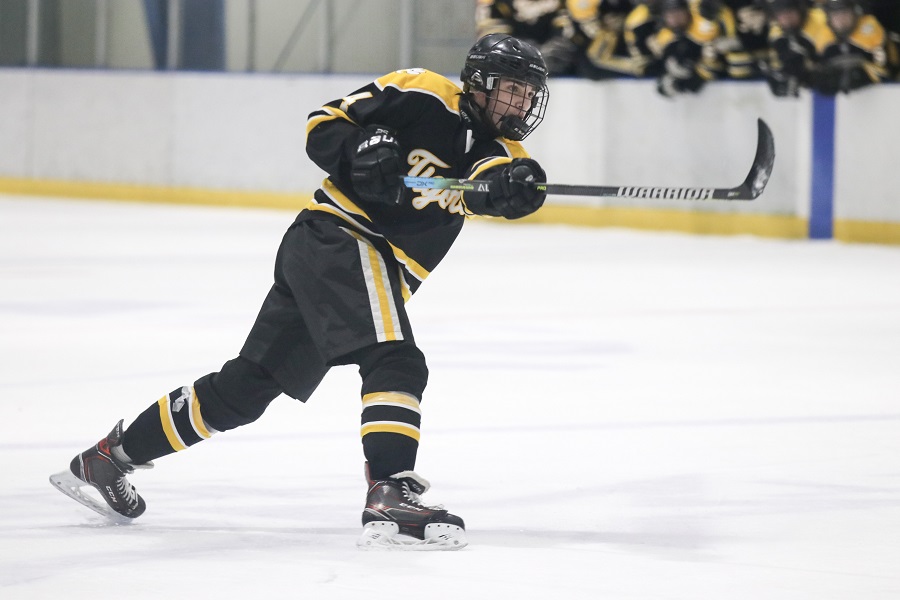 TIGERS TOP RAIDERS IN SHOOTOUT
by Jared Barton
North Allegheny came back from a two-goal deficit to beat Seneca Valley 4-3 in the shootout Monday night at the Baierl Ice Complex.
The Tigers and Raiders battled in a physical rivalry matchup, as early hits from both teams sparked energy in the World Area. Seneca struck first just over seven minutes left in the opening period.  Senior C.J. Phillips scored on a nice setup from senior Ryan Russell and junior Shane Kozlina.
With senior defenseman Matt Gentile in the penalty box for tripping, the Raiders took advantage of the man up opportunity. Captain Clayton Blucher scored halfway through the second frame, with assists coming from Phillips and Kozlina, to give SV a 2-0 lead. The Tigers were placing Seneca goalie Zander Stark under siege throughout the game, but the senior took away plenty of opportunities for the NA offense. With just minutes remaining in the second period, the Tigers pounced on a chance. Sophomore Trey Gallo scored after tic-tac-toe passing from juniors Cole Jackman and Connor Chi. With 30 seconds left in the second frame, the Tigers scored to tie it up, 2-2, as Gallo and Chi found sophomore Nathan Spak along the goal line, and Spak buried a shot top-shelf after maneuvering in front of the Seneca Valley net.
The teams traded goals early in the third period, as North Allegheny found their first lead of the game off the stick of Spak, who took a feed from Gallo and Chi once again on a 2-on-1 breakaway.  Roughly 30 seconds later, C.J. Phillips found the back of the NA net, on a goal assisted by sophomore Jaxson Read.  North Allegheny senior Josh Bailey held strong in net to end the period, making multiple big saves to keep the game tied.
NA and SV had no answers in 3-on-3 overtime, so the game went the shootout. After starting the scoring for the Tigers, Gallo finished the game with a slick move past Stark for his second tally of the night.
Gallo earned Wright Automotive Player of the Game Honors for his three-point performance. Bailey stopped 14 shots for the win, while Stark handled 41 shots in the loss.
North Allegheny improves to 12-3-2 overall and currently sits in a three-way tie for second place with Peters Township and Pine Richland. All three teams have 26 points, while 1st place Canon-Mac has 31 points.
The Tigers battle the Upper St. Clair Panthers on the road tomorrow night at 9:00 p.m.
Ice Hockey Summary vs. Seneca Valley, 3-15-21
| GAME SUMMARY | | | | | | |
| --- | --- | --- | --- | --- | --- | --- |
| SCORE BY PERIODS | 1 | 2 | 3 | OT | SO | FINAL |
| North Allegheny | 0 | 2 | 1 | 0 | 1 | 4 |
| Seneca Valley | 1 | 1 | 1 | 0 | 0 | 3 |