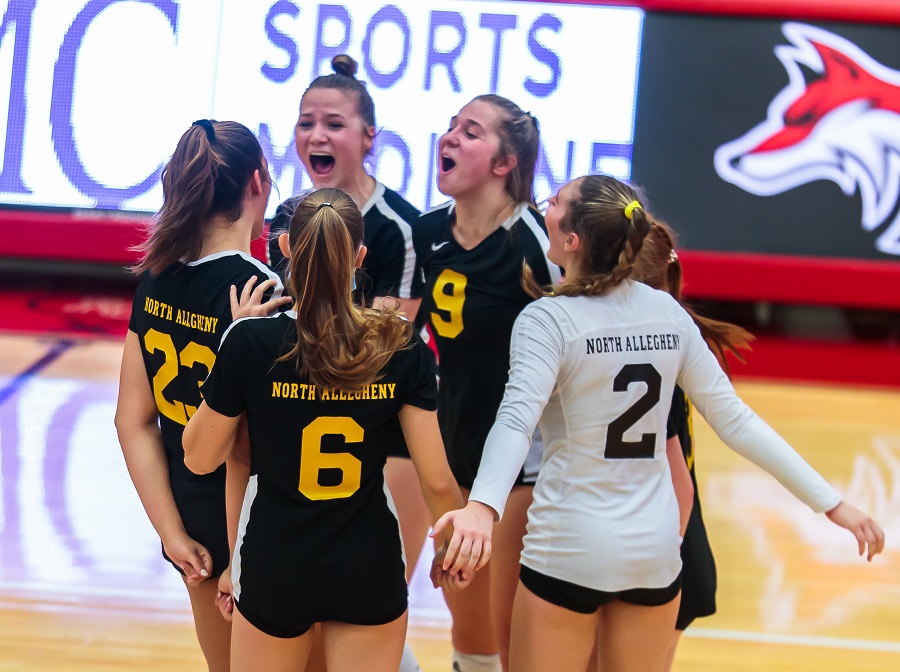 Tigers Triumph Over Titans In PIAA Semifinals, 3-1
Facing section rival Shaler, in the PIAA Class 4A semifinals on Tuesday night at Fox Chapel, the North Allegheny girls' volleyball team earned a 3-1 victory to advance to the state championship game for the fifth consecutive season. Facing the Titans for the fourth time this season, the Tigers won by set scores of 19-25, 29-27, 25-18 and 25-18.
In the opening set, the revved-up Titans jumped to a 23-10 and seemed likely to cruise to a game one victory. While Shaler did prevail, the Tigers fought back by winning nine of the next 10 points as the Titans held on for a 25-19 decision.
The late momentum gained in set one carried over for North Allegheny in set two. The Tigers went back-and-forth with the Titans but ultimately prevailed, 29-27. Junior Maddie Fickess played a significant role with timely blocks and five kills in the set. Junior Carissa Treser also added five kills, on her way to a team-high 12 on the night.
In set three, North Allegheny led 19-11 before Shaler made thing close, trimming the score to 20-18. However, the Tigers once again displayed their mettle and scored five straight points to close out the set, 25-18.
With decided momentum in their corner, the Tigers rolled to the win in set four, 25-18, to finish off a 3-1 triumph over the Titans.
Contributors on the night for NA included junior Ella Deeter with 11 kills and Fickess with a team-high five blocks. Senior Jadyn Perkins chipped in at the net with three blocks. The defense was sparked by junior libero Caroline Curran with 33 digs. Junior Rebecca Pilotta and sophomore Avery Butcher posted 14 and 12 digs, respectively.
Once again providing a terrific all-around performance was junior setter Mia Tuman with 36 assists, 25 digs, 11 kills and three blocks. For her efforts, Tuman was selected as the Wright Automotive Player of the Game.
North Allegheny continues on to the PIAA championship game with an 19-1 record, while Shaler's season ends with an 19-3 mark. Over the last two seasons, Shaler has posted an impressive 32-6 record. All six losses are to North Allegheny.
In the PIAA championship, North Allegheny will face Parkland at 6:00 p.m. on Saturday at Cumberland Valley High School. The game will be broadcast live via the internet by the North Allegheny Sports Network.
Girls Volleyball Summary vs. Shaler, 11-16-21
| GAME SUMMARY | | | | | |
| --- | --- | --- | --- | --- | --- |
| SCORE BY SETS | 1 | 2 | 3 | 4 | FINAL |
| Shaler | 25 | 27 | 18 | 18 | 1 |
| North Allegheny | 19 | 29 | 25 | 25 | 3 |