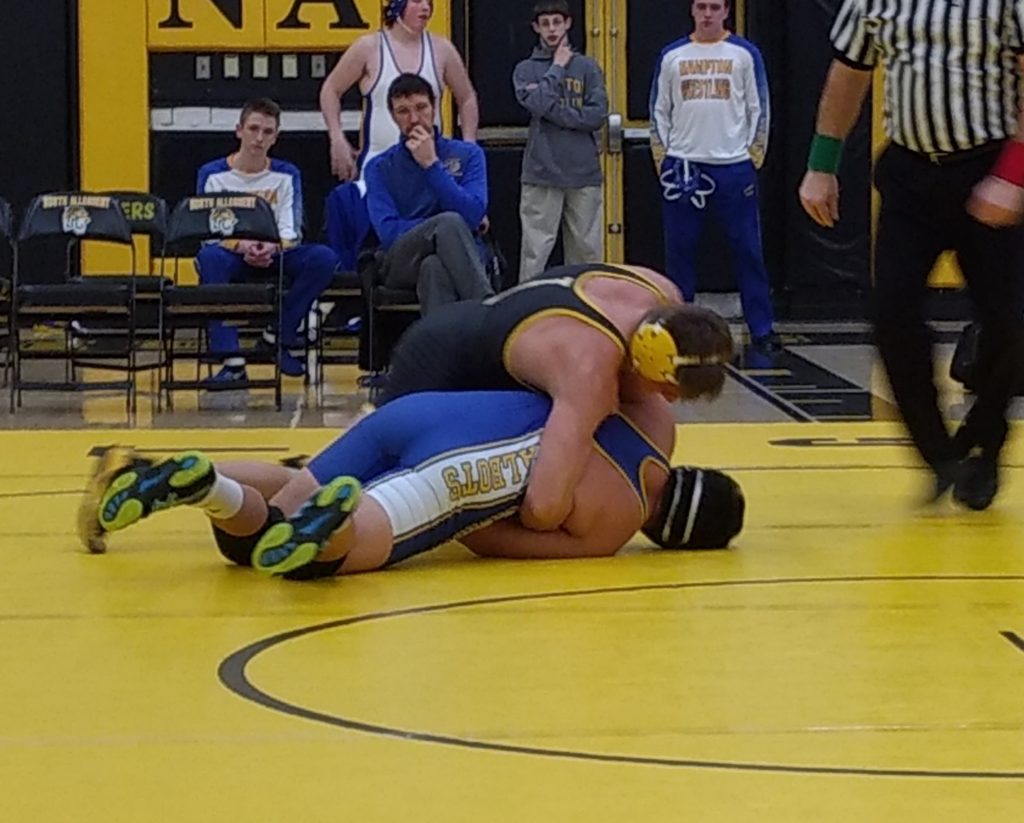 Tigers Trounce Talbots, 58-6
The North Allegheny wrestling team maintained its perfect section mark by rolling over the Hampton Talbots, 58-6, on Wednesday night. The Tigers used five pins and three forfeits en route to the blowout win.
The evening started at 106 pounds where Hampton's Tyler Kocak captured a 7-4 decision to give Hampton an early 3-0 lead. North Allegheny answered with an impressive 9-1 major decision by Jacob Downing over Josh Campbell at 113 pounds. The bout between Downing and Campbell pitted two top-10 wresters in the WPIAL and the NA grappler thoroughly handled his foe. For his efforts, Downing was named the Wright Automotive Wrestler of the Match.
Following Downing's win, the Tigers led 4-3. Hampton grabbed the lead back, 6-4, in the next bout with a 5-3 decision by Jack Wright. The victory for Wright was the last Hampton would be heard from for the rest of the night. The Tigers rolled off 10 consecutive wins to run away from the Talbots. Picking up wins by fall were Luke Landefeld (132), Zach Stedeford (138), Jacob Fritsch (182) and Jake Woodley (195).
North Allegheny improves to 3-0 in subsection 3B-AAA. Hampton dips to 0-3. The Tigers will take on St. Edwards and Elder in a tri-meet on Saturday at 11:00 a.m.
Wrestling Match Summary: NA vs. Hampton
| Weight | Wrestlers | Score |
| --- | --- | --- |
| 106 | Tyler Kocak (H) dec. Freddy Junko (NA) | 7-4 |
| 113 | Jacob Downing (NA) maj. dec. Josh Campbell (H) | 9-1 |
| 120 | Zack Wright dec. Gabe Falo (NA) | 5-3 |
| 126 | Nick Marcenelle (NA) dec. Liam Helon (H) | 4-3 |
| 132 | Luke Landefeld (NA) pinned Steven Carr (H) | 1:08 |
| 138 | Zach Stedeford (NA) pinned Vincent Schmitt (H) | 4:40 |
| 145 | Jake Hinkson (NA) wbf | |
| 152 | Jon Hoover (NA) wbf | |
| 160 | Jacob Smalley (NA) dec. Chad Scherer (H) | 8-4 |
| 170 | Jimmy Turici (NA) wbf | |
| 182 | Jacob Fritsch (NA) pinned Zack Boggs (H) | 1:21 |
| 195 | Jake Woodley (NA) pinned Nathan Tabon (H) | 1:23 |
| 220 | Double Forfeit | |
| 285 | Derek Devine (NA) pinned Tommy Rengers (H) | 0:19 |