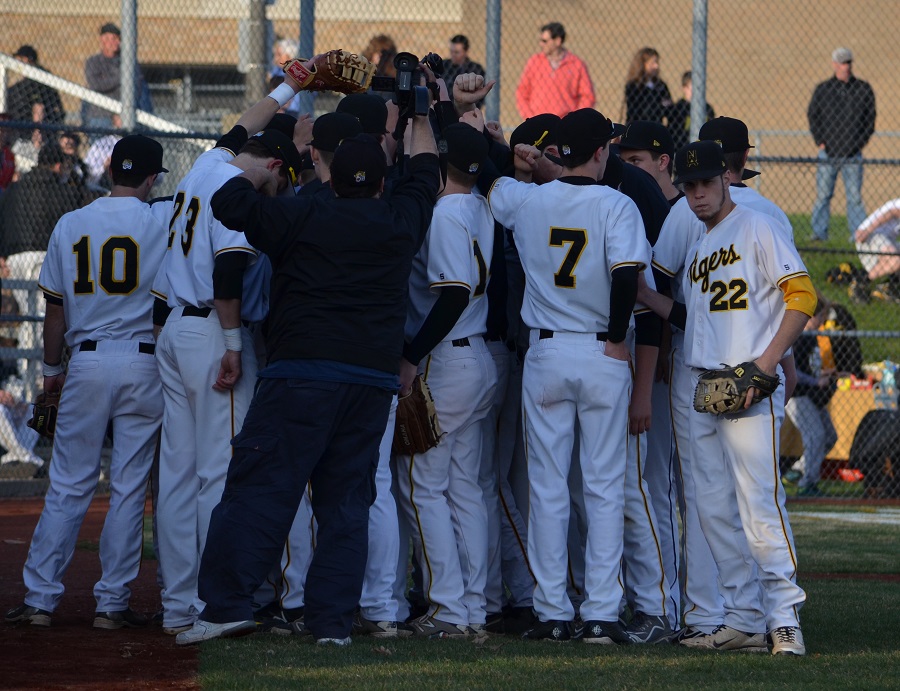 Tigers Unable To Wrangle Colts In 7-6 Non-Section Loss
In a see-saw affair at Chartiers Valley, the host Colts scored two runs in the bottom of the sixth inning to edge North Allegheny, 7-6, on Monday afternoon.  The Colts tied the game at 6-6 on a sacrifice fly by Brady Gularowski and took the lead on a Tigers error for the one-run victory. Nick Kane earned the win in relief for Chartiers Valley while Chris Vrana suffered the loss for North Allegheny.
The Tigers trailed 4-1 by the second inning and 5-2 by the fourth inning before rallying to take the lead in the late innings.  In the top of the fifth, North Allegheny struck for three runs on a two-run error by CV and an RBI double by Jon Dignazio to even the score at 5-5.  In the sixth inning, Keegan Phillips doubled home Liam Dalbow and the Tigers led 6-5 before the Colts took the lead for good in the bottom half of the sixth.
Garrett Hagan and Ryan Hamm drove home two runs apiece for the NA lineup.  Phillips had a fine day by going 3 for 3 with two runs scored and an RBI. Dante Panucci was the top run producer in the Colts stable as he smacked a three-run homer in the first inning for a quick start out of the gates.
On the mound, Ben Marsico had a solid outing with one unearned run allowed in three innings of work and two strikouts.   Trevor Smith had a sparkling 1-2-3 inning in relief.
North Allegheny drops to 4-3 overall with the non-section loss and will look to rebound on Tuesday night with a section meeting with the Butler Golden Tornado.  First pitch is scheduled for 7:00 pm.
Line Score - NA Baseball vs. Chartiers Valley, 4/6/15
| Score by Innings | 1 | 2 | 3 | 4 | 5 | 6 | 7 | | R | H | E |
| --- | --- | --- | --- | --- | --- | --- | --- | --- | --- | --- | --- |
| North Allegheny | 1 | 0 | 1 | 0 | 3 | 1 | 0 | | 6 | 7 | 2 |
| Chartiers Valley | 3 | 1 | 0 | 1 | 0 | 2 | X | | 7 | 4 | 2 |
WP - Nick Kane LP - Chris Vrana (0-1)