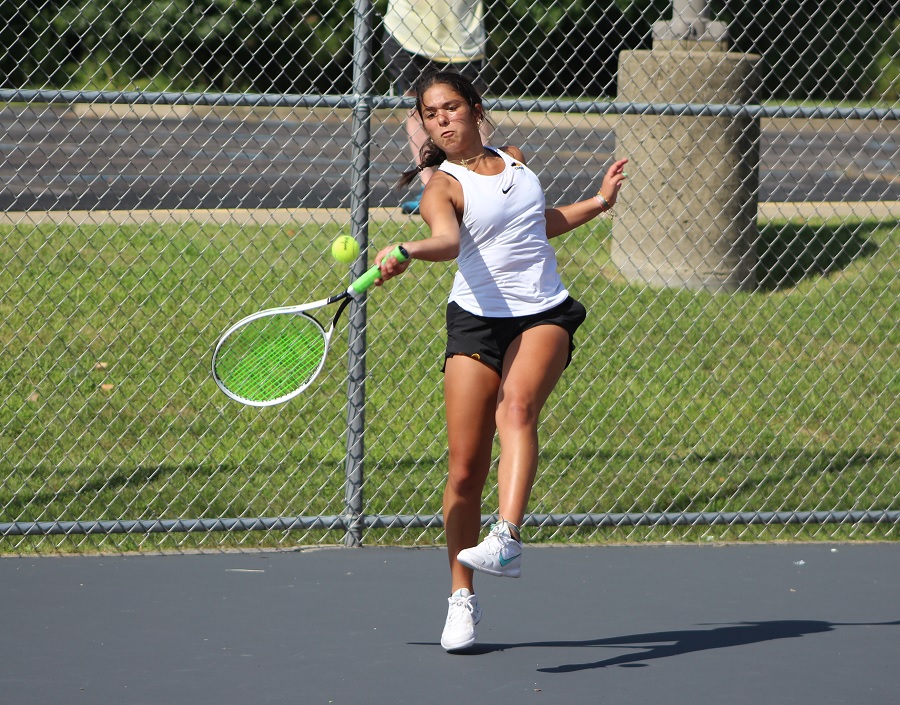 Tigers Vanquish Raiders, 5-0
The North Allegheny girls' tennis team continued its torrid play to begin the 2022 season with a 5-0 sweep at Seneca Valley on Thursday afternoon. It's the fourth straight win for the Tigers and second in a row in section play.
North Allegheny once again owned the court in singles play with junior Sara Fernandez and senior Emily Wincko earning identical 6-0, 6-0, wins at No. 1 and No. 2 singles, respectively. At No. 3 singles, senior Abbey Swirsding yielded only a single point to Bridget Elms in a 6-0, 6-1, victory.
The success continued in doubles action as the No. 1 combination of Reagan Dougherty and Rebecca Murphy cruised to a 6-0, 6-1 win against Sydney Blucher and Lilie McElhinny. At No. 2 doubles, Tia Soussou and Eileen Hu collected a 6-0, 6-1, victory against Marlee Jones and Lily Wood.
North Allegheny improves to 4-0 overall and 2-0 in the section. The Tigers will look to continue their winning ways on Tuesday at home against Mars.
Girls Tennis Summary vs. Seneca Valley, 9-1-22
Match Summary

NORTH ALLEGHENY - 5
SENECA VALLEY - 0
SINGLES
#1
Sara Fernandez (NA) def. Kylie Staudt (SV)
6-0, 6-0
#2
Emily Wincko (NA) def. Anna Winland (SV)
6-0, 6-0
#3
Abbey Swirsding (NA) def. Bridget Elms (SV)
6-0, 6-1
DOUBLES
#1
Reagan Dougherty/Rebecca Murphy (NA) def. Sydney Blucher/Lilie McElhinney (SV)
6-0, 6-1
#2
Tia Soussou/Eileen Hu (NA) def. Marlee Jones/Lily Wood (SV)
6-0, 6-1