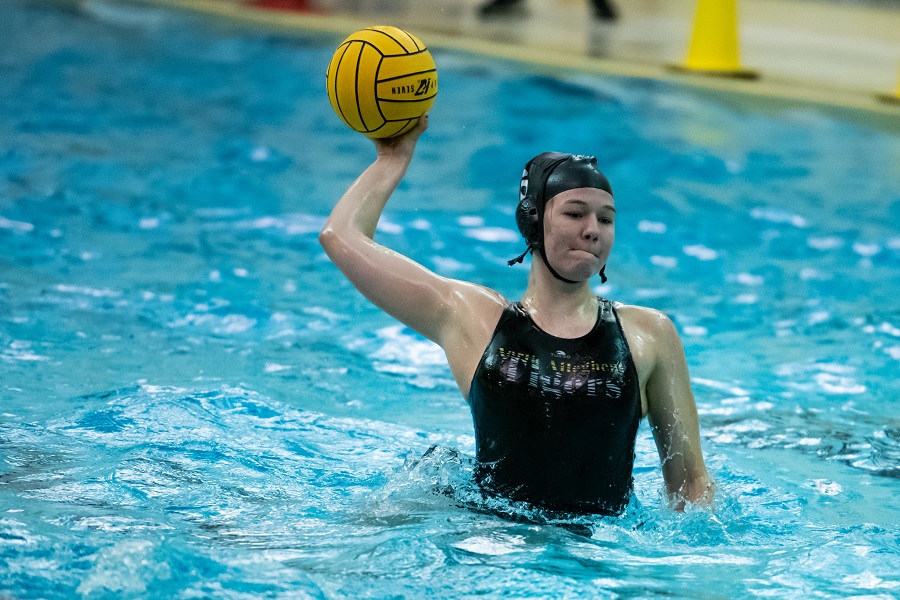 Tigers Vanquish Villa Maria, Cathedral Prep
North Allegheny water polo earned a sweep over a pair of foes from Erie on Tuesday night at NASH. The NA Girls rolled to a 13-4 win over Villa Maria and the NA Boys staved off a late rally from Cathedral Prep for an 8-7 victory.
In the opener, the Lady Tigers jumped out to a 12-1 lead by the end of the three quarters to win in a rout. Senior captain Anna Kegel spearheaded the blowout offensively with a goal just 20 seconds into the game and tallied seven markers on the night. Sophomore Katyusha Peregoncev netted a pair of goals in the second half to help NA pull away for the 13-4 win. Other Tigers with single goals included Rebecca Melanson, Sharon Li, Natalie Marquiss and Emma Donnelly. In net, sophomore Izzie Trunzo was impressive with 15 saves on her way to Wright Automotive Player of the Game honors. Villa Maria senior Molly Fehr scored all four goals for the Victors in a losing effort.
In the night cap, the NA Boys team won an exciting contest by fending off Cathedral Prep. The Ramplers scored the first goal with 2:07 to play in the first period on a marker by Mitchell Bradford, but back-to-back goals by junior Asher Jones in the final 16 seconds of the half gave NA a 2-1 lead. From that point on, North Allegheny held the advantage for the remainder of the night but was constantly threatened by Cathedral Prep.
Ben Gavran, Justin Morrison and Keller Sens all scored in the second quarter to help NA build a 5-2 lead. Gavran played a pivotal role on defense with a team-high eight steals and was named the Wright Automotive Player of the Game.
Gavran's defense would be important in the second half as Cathedral Prep began to chip away. Even though Sens scored his second of the night in the third period, the Ramblers sandwiched goals from Hugh Wegley and Connor Mortiz around the Sens marker to trim the deficit to 6-4.
After a Sean McClellen goal with 3:52 left in the fourth quarter, Bradford and Moritz scored back-to-back to cut the NA lead to 7-6 with 2:06 to play. It appeared Ethan Berty's goal with just 34 seconds remaining might put the game away for NA, but a third goal by Mortiz with 19 seconds remaining cut the score to 8-7, Tigers. In the waning seconds, Aidan Levis had a chance to tie the game at the buzzer but his final shot hit the left post and bounced away as NA escaped with the one-goal victory.
Following Tuesday's results, the NA Boys improve to 14-2 overall and the Lady Tigers leap to 15-2 on the season. North Allegheny will visit McDowell on Thursday night.