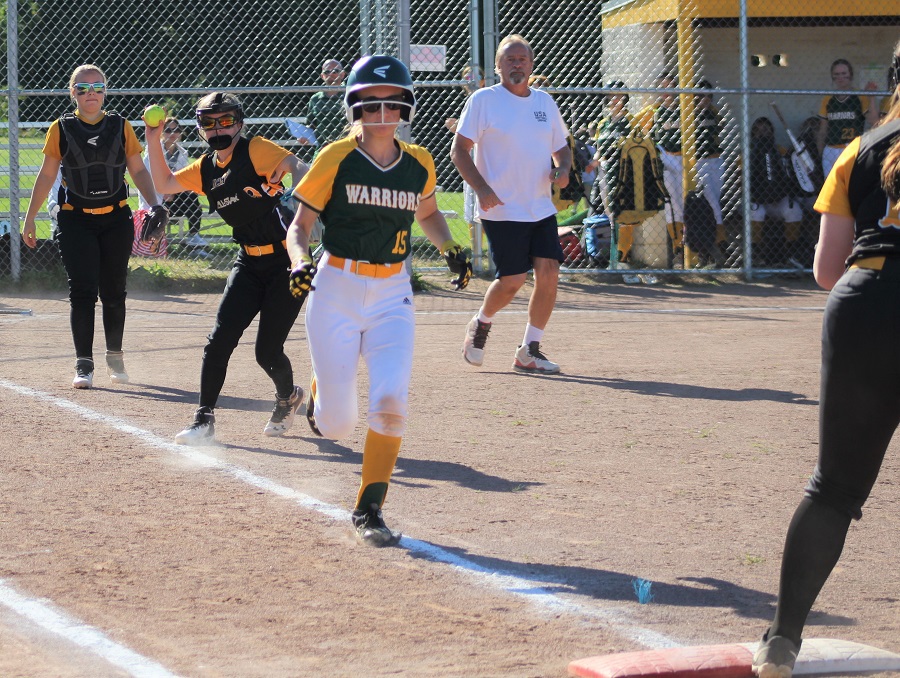 Tigers Wallop Warriors in Doubleheader
by Brandon Rossi
The North Allegheny slow-pitch softball team swept Penn-Trafford in a Sunday doubleheader at Marshall Middle School, 27-1 in game one and 26-4 in game two. The pair of wins improves NA's record to 5-1 on the year.
The Tigers started out game one with a bang, crossing the plate 10 times. They followed up with eight more scores in the second inning, holding the uber-comfortable 18-0 lead after batting around twice. Juniors Helen Katyal and Riley Yates led the Tiger half of the game off with back-to-back triples, while sophomore Reilly Spitz and junior Nina Pietrzak both knocked in a pair of RBIs.
In the second inning, six consecutive Tigers drove in an RBI starting with senior Hannah Bennett and going down the line with Spitz, sophomore Jayna Cole, senior Emily Yanchak, Pietrzak and Katyall all lacing the base knocks. Spitz's RBI base hit was a double.
All 11 batters in the lineup notched at least one base hit, including Pietrzak's 4-for-4 day with three RBI's. Yanchak got the starting nod in the circle and delivered a one-hit gem. Pietrzak was named the Wright Automotive Player of the Game.
Game two saw the Tigers gradually increase their offense as the game went along. The first two innings featured a pair of NA runs coming across courtesy of RBIs by seniors Evelyn Wiethorn and Audrey Laswell in the first, and Yanchak and Katyal in the second. In the third inning, the Tigers poured in the runs with nine crossing the plate. A dozen more runs came across in the fifth inning as the Tigers sent 16 batters to the plate with every player scoring at least once, securing the 22-run win.
Once again, every batter collected at least one hit for North Allegheny, and all but one Tiger had at least one RBI. Katyal led the way with a 5-for-5 day in game two with four singles, a triple and three runs scored on her way to Wright Automotive Player of the Game honors. Bennett, Spitz and Cole also scored three times. Senior Sydney Besket drove in four RBI's. Yanchak dominated in the pitcher's circle, allowing no runs in three innings of work.
The Tigers head to Fairhaven Park on Thursday for a double header at Montour. First pitch begins at 6:00 pm in Robinson Township.