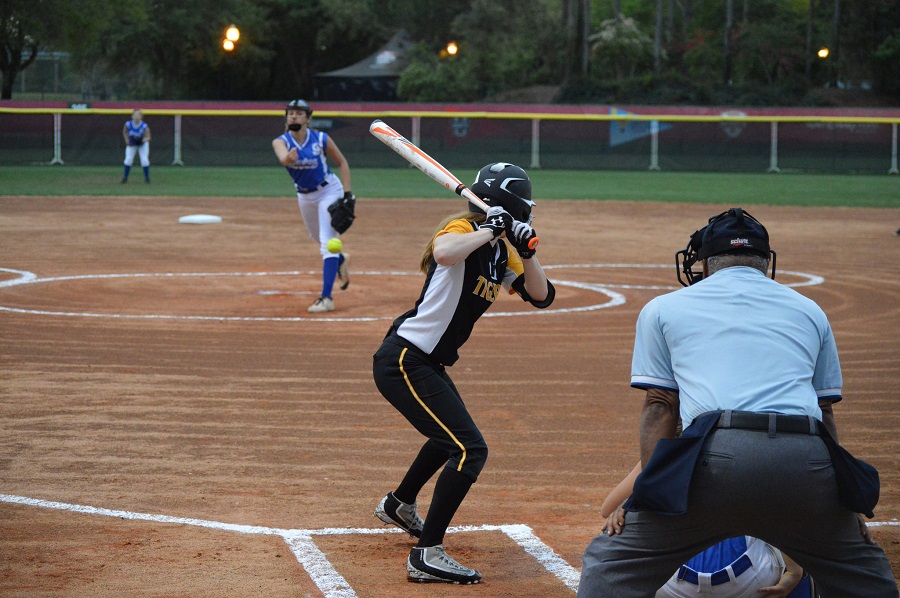 Tigers Weather Tornado On Cloudless Night
On a beautiful spring Friday evening at NASH Field, the North Allegheny Varsity Softball Team withstood a determined Butler Tornado team to secure a 7-1 victory. Butler pitcher Alexis Schmeider and North Allegheny senior pitcher Madi Beining hung zeros on the scoreboard through the first five innings of the contest.  Butler finally broke through for a run in the top of the sixth when shortstop Noel Pfabe lined a one-out single into right field and raced all the way to third on a Tiger error. From there, Pfabe scored the only run of the game to that point when she was driven in on a sacrifice fly to left field by Tornado third baseman Jen Miller.
The Tigers, after experiencing offensive frustration in not getting to Schmeider, who pitched effectively through five, finally broke through in the bottom of the sixth for seven runs to arrive at the final margin. Senior catcher Liz Scherer got things started with a leadoff single through the middle. Freshman shortstop Rachel Martindale followed with a double to center field.  Beining reached on a Tornado error, following which senior designated player Laura Ryder hit a sacrifice fly to center field for an RBI, and consecutive singles from senior third baseman Allie Green, senior first baseman Mollie Benvenuto, freshman pinch hitter Kristen Chomos, and senior second baseman Lacey Hilderbrand kept the run parade on the march. Following a ground out, Scherer closed out the inning on another RBI single to plate run number seven.  Beining closed it out with a one-two-three top of the seventh.
The win raises the Tigers' overall mark to 8-1 and a record of 5-1 in Section 3 AAAA play. NA will next take the field on Monday afternoon at home vs. section opponent Brashear High School in a 4:00 game.
Softball vs. Butler, 4-15-16
| Score by Innings | 1 | 2 | 3 | 4 | 5 | 6 | 7 | | R | H | E |
| --- | --- | --- | --- | --- | --- | --- | --- | --- | --- | --- | --- |
| Butler | 0 | 0 | 0 | 0 | 0 | 1 | 0 | | 1 | 3 | 1 |
| North Allegheny | 0 | 0 | 0 | 0 | 0 | 7 | X | | 7 | 11 | 2 |
WP - Madi Beining LP - Alexis Schmeider