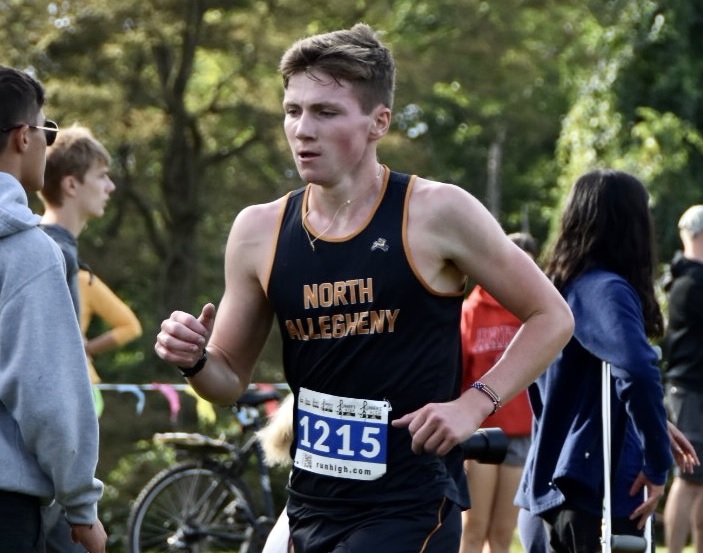 Tigers Win Big At Home Sectional
by Cross Country Contributor
The North Allegheny cross country team hosted North Hills and Seneca Valley at North Park on Tuesday.  There was a lightning delay right before the start of the race and both varsity teams ran together due to the weather forecast.
The NA Boys team won, 20-40, against Seneca Valley and had a perfect score against North Hills, 15-50.  Seniors Jackson Pajak and Gregory Kossuth ran great races to take 1-2.  Junior James Behrend was fourth and senior Vincent Rotunno was sixth. Senior Joey Rempe finished seventh and junior Connor Williams grabbed 10th.  All seven tigers ran superbly.
The NA Girls team bested Seneca, 19-39, and had a perfect score against North Hills, 15-50. Sophomore Wren Kucler won the race and junior Erin McGoey was fast in second. Senior Grace Rowley took third and junior Maia Getz was fifth with a great race.  Sophomore Hallie Dong was solid in eighth, sophomore Nicole Ruebi was ninth and senior Sophie Kollitz rounded out the scoring in eleventh. All Lady Tigers ran fast times on the three mile course.
The NA Boys jump to 5-0 in section action and the Lady Tigers are 4-1. North Allegheny visit Butler for a tri-meet on Tuesday, Oct. 4 with the Golden Tornado and Shaler Titans.