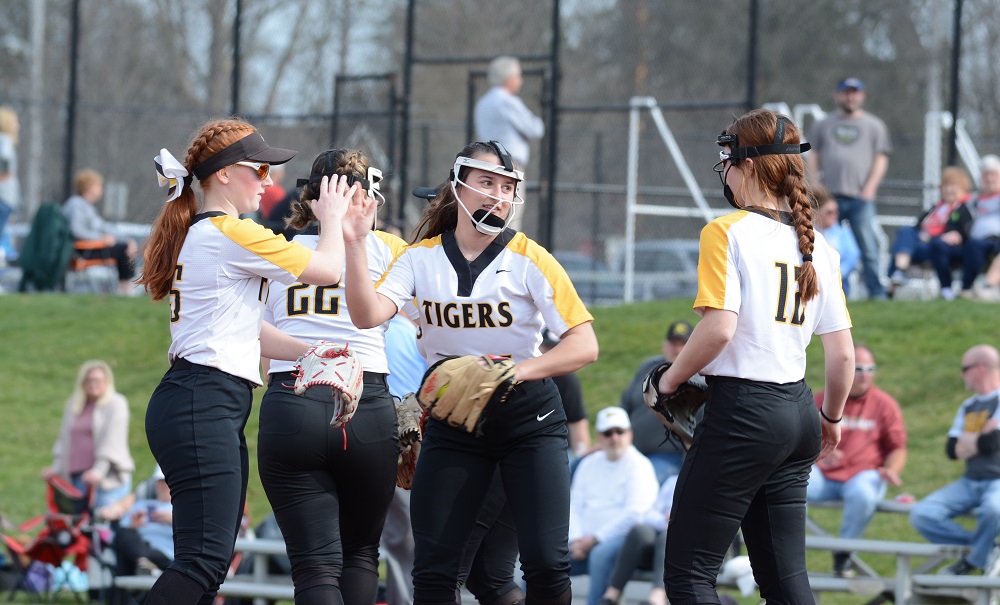 Tigers Win Pitcher's Duel With Foxes, 1-0
In a classic pitcher's duel on Wednesday afternoon, the North Allegheny softball team blanked the host Fox Chapel Foxes, 1-0, in a non-section contest.
Sophomore hurler Anne Melle tossed a complete game, three-hit shutout to earn her second victory of the young season. Melle stuck out seven batters and yielded only one walk, earning Wright Automotive Player of the Game honors.
Melle's pitching counterpart was Fox Chapel senior Mackenzie Borkovich who was coming off a 17-strikeout performance on Tuesday in a victory against Peters Township. A strikeout pitcher by trade, the Slippery Rock commit matched her strikeout total from a day earlier with 17 against the Tigers but could not repeat in the win column.
With both pitchers imposing their will on the game, the contest remained scoreless going into the top of the seventh inning. Junior Annalyn Isaacs led off the inning with a base hit and was pinch run for by sophomore Rachel Rusnica. Pinch hitter, Mayson Brokos, executed a sacrifice bunt that advanced Rusnica to second base. After a Borkovich strikeout accounted for the inning's second out, junior Reagan Sheets drove in the game-winning run with a sharp line drive single to third that ricocheted off the glove of Fox Chapel's Brynn Palmer and rolled out of play, allowing Rusnica to score from second base for a 1-0 lead. Melle pitched a prompt 1-2-3 bottom of the seventh to finish off the 1-0 victory.
North Allegheny improves to 2-0 overall, while Fox Chapel slips to 2-1 on the season. The Tigers are scheduled to face Connellsville on Friday at 4:00 p.m. The game will be broadcast live, weather permitting, by the North Allegheny Sports Network.
Box Score - Softball vs. Fox Chapel - 03/30/2022
| Score by Innings | 1 | 2 | 3 | 4 | 5 | 6 | 7 | R | H | E |
| --- | --- | --- | --- | --- | --- | --- | --- | --- | --- | --- |
| North Allegheny | 0 | 0 | 0 | 0 | 0 | 0 | 1 | 1 | 3 | 1 |
| Fox Chapel | 0 | 0 | 0 | 0 | 0 | 0 | 0 | 0 | 3 | 2 |
WP - Anne Melle (2-0) LP - Mackenzie Borkovich