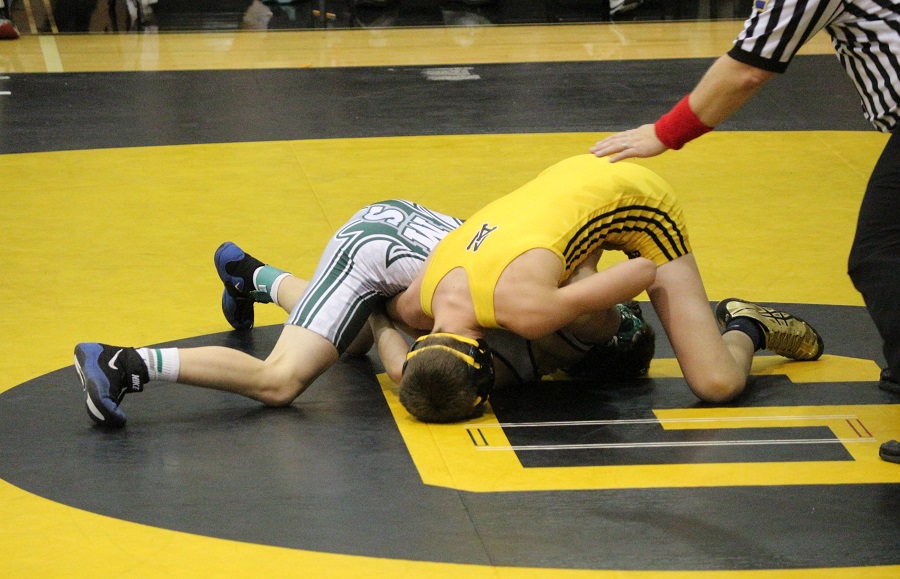 Tigers Win Section 3-AAA Championship
North Allegheny captured its third straight Section 3-AAA championship with a 46-22 victory over the Pine-Richland Rams on Wednesday night.  The host Tigers defeated Pine-Richland for the second time in as many weeks, but this time with the section title on the line.  Despite the loss, the Rams have locked up their first berth in the WPIAL Team Wrestling Tournament since 2006. The Tigers have won or shared the section title in 14 of the last 15 years.
The Tigers opened the championship match with a pair of falls by Sean Hoover and Jacob Fritch at 152 and 160 pounds, respectively, for a 12-0 lead. Brendan Burnham put Pine-Richland on the scoreboard with a 6-0 decision at 170 pounds to cut the score to 12-3, Tigers.
North Allegheny won three of the next four bouts to balloon the lead to 30-6.  In that span of victories, Clay Byerly collected a win by forfeit at 182 pounds, Layne Skundrich pinned Brendan Schellar at 220 pounds and Jeff Clemens pinned Luke Krebs at 285 pounds.
The Rams began to pick up a little momentum with a 10-2 major decision by Alex Salas at 106 pounds and a win by fall courtesy of Hunter Baxter at 113 pounds.  Baxter's victory trimmed the NA lead to 30-16 with four bouts remaining.
At 120 pounds, sophomore Zack Stedeford was locked in a back-and-forth battle with Pine-Richland sophomore Garret Burnham.  In the end, Stedeford collected a 6-5 decision over Burnham and swayed the pendulum back in the Tigers direction.  For his efforts, Stedeford was named the Wright Automotive Wrestler of the Match.
Following Stedeford's victory, the Tigers won three of the next four bouts to close out the section championship. A Jake Hinkson major decision at 132 pounds, a 5-4 decision by A.J. Boeh at 138 pounds, and a win by fall by Sean Kalmeyer finished off the Rams for a 46-22 triumph.
Earlier in the night in the Section 3-AAA semifinals, the Tigers ran roughshod over the Fox Chapel Foxes, 56-6.  North Allegheny collected six wins by fall en route to the victory. In one of the premier bouts in the matchup with the Foxes, Stedeford outdueled Andrew Kopco for a 10-4 decision to again earn Wright Automotive Wrestler of the Match honors.  Over the weekend, Kopco twice knocked off higher seeded foes at the Allegheny County Tournament but registered very little in the way of success against Stedeford.
With the Section 3-AAA title at hand, North Allegheny will await its seeding for the WPIAL Team Tournament that begins next week.  Follow all the action right here on the North Allegheny Sports Network.
Wrestling Match Summary: NA vs. Pine-Richland
Section 3-AAA Championship
| Weight | Wrestlers | Score |
| --- | --- | --- |
| 152 | Sean Hoover (NA) pinned Ryan Means (PR) | |
| 160 | Jacob Fritch (NA) pinned Tony Jones (PR) | |
| 170 | Brendan Burnham (PR) dec. Jake Woodley (NA) | 6-0 |
| 182 | Clay Byerly (NA) wbf | |
| 195 | Keegan Harris (PR) dec. Zach Smith (NA) | 4-2 OT |
| 220 | Layne Skundruch (NA) pinned Brendan Schellar (PR) | |
| 285 | Jeff Clemens (NA) pinned Luke Krebs (PR) | |
| 106 | Alex Salas (PR) maj. dec. Jacob Downing (NA) | 10-2 |
| 113 | Hunter Baxter (PR) pinned Gabe Falo (NA) | |
| 120 | Zach Stedeford (NA) dec. Garret Burnham (PR) | 6-5 |
| 126 | Ben Salas (PR) wbf | |
| 132 | Jake Hinkson (NA) maj. dec. Ryan Baer (PR) | 11-0 |
| 138 | A.J. Boeh (NA) dec. David Kelly (PR) | 5-4 |
| 145 | Sean Kalmeyer (NA) pinned Justin McFarland (PR) | |
***********
Wrestling Match Summary: NA vs. Fox Chapel
Section 3-AAA Semifinals
| Weight | Wrestlers | Score |
| --- | --- | --- |
| 145 | Sean Kalmeyer (NA) pinned Jimmy Michael (FC) | |
| 152 | Sean Hoover (NA) pinned Brennan Whalen (FC) | |
| 160 | Jake Woodley (NA) dec. Darrin Dietz (FC) | 5-0 |
| 170 | Jacob Fritch (NA) dec. Tristan Houser (FC) | 10-7 |
| 182 | Clay Byerly (NA) dec. Mike Mahon (FC) | 6-2 |
| 195 | Zach Smith (NA) pinned Zach Carcy (FC) | |
| 220 | Layne Skundruch (NA) pinned Alex Patsko | |
| 285 | Jeff Clemens (NA) pinned Darnell Foster (FC) | |
| 106 | Jacob Downing (NA) pinned Juan Morales (FC) | |
| 113 | Gabe Falo (NA) dec. Vaun Flotta (FC) | 8-1 |
| 120 | Zack Stedeford (NA) dec. Andrew Kopco (FC) | 10-4 |
| 126 | Austin Pisano (FC) dec. Harley Hartle (NA) | 8-2 |
| 132 | Jake Hinkson (NA) wbf | |
| 138 | Darius Booker (FC) dec. Will Baierl (NA) | 9-2 |