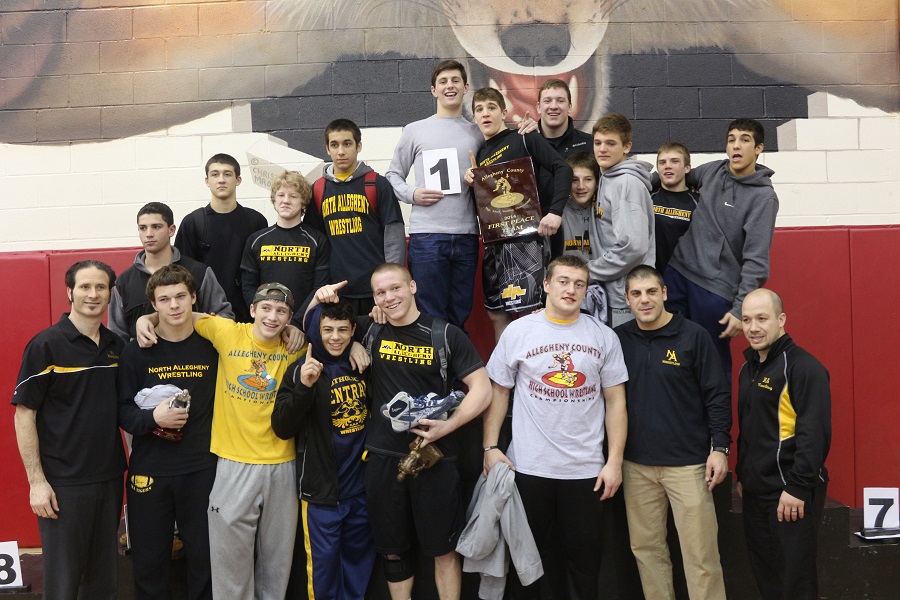 Tigers Win Title, Forys Makes History At Allegheny County Tournament
North Allegheny crowned three individual champions and took home its second straight team title at the Allegheny County Wrestling Tournament this weekend with a team score of 243.5. In doing so, senior Dom Forys became just the third wrestler in tournament history to win four titles. The only other four-time champions are Plum's Sean Clair in 2005 and Shaler's Nick Nelson in 2007. Forys achieved his historic fourth gold medal with a tech fall victory over Thomas Jefferson's Braden Flinn at 126 pounds. Forys received the tournament's Most Outstanding Wrestler award for his efforts.
Along with Forys, freshman Luke Landefeld (113) and junior Layne Skundrich (220) claimed titles over the weekend.  Similar to Forys, Landefeld won by tech fall over Kevin Statler of McKeesport in the championship round.  Skundrich earned a 3-0 decision over Michael Roper of Chartiers Valley in his championship bout.
North Allegheny also placed two silver medal winners and two bronze. Jake Hinkson (132) and Zach Smith (195) claimed second place finishes.  At 120 pounds, Scotty Stossel won by a 6-4 decision over Chartiers Valley's Mark Tharp for bronze.  Also earning third place was Clay Byerly who topped Plum's Hunter Fenk by a 5-2 decision at 182 pounds. For a full listing of results at the Allegheny County Tournament, click here.
After garnering their second first place tournament trophy of the season, the Tigers will take to the mat on Wednesday night at Plum for the Section Championships starting at 6:00 pm.  North Allegheny will face North Hills in the opening round, a team the Tigers defeated on January 11 by a 48-16 final. Listen to all the action of Wednesday night's sectionals live via the internet on the North Allegheny Sports Network.
2014 Allegheny County Wrestling Tournament Team Results
| Place | Team | Score |
| --- | --- | --- |
| 1 | NORTH ALLEGHENY | 243.5 |
| 2 | Mt. Lebanon | 183 |
| 3 | South Fayette | 169 |
| 4 | Plum | 147 |
| 5 | North Hills | 142 |
Top 5 Only