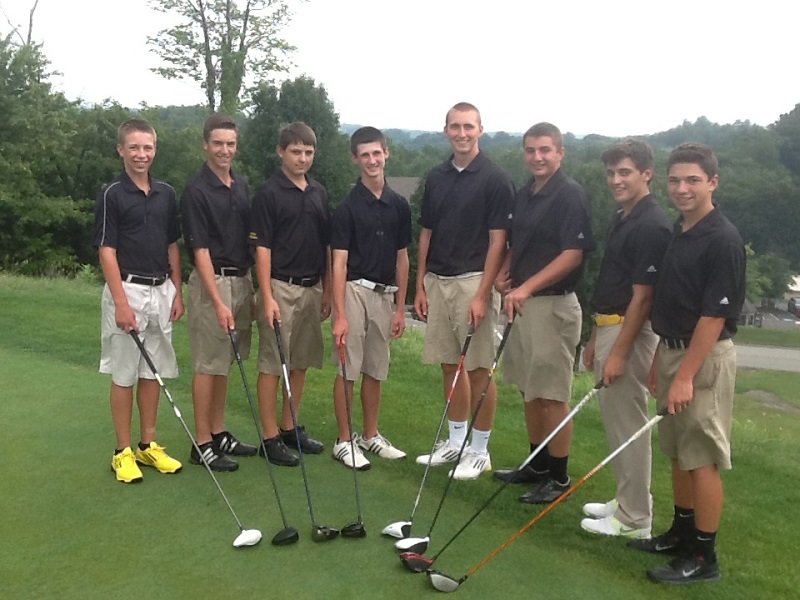 Tigers Win Two Hole Playoff, Hand Sewickley Academy First Loss
In a stunning upset, the North Allegheny Varsity Boys' Golf Team defeated Sewickley Academy in a non-section match yesterday at Allegheny Country Club. Martin Lazzaro, Josh Huhn, and Nick Longo were the team leaders, each shooting a 38.  The score was tied 204-204 at the end of the match, and Lazzaro and Huhn were chosen to play off two holes against Sewickley Academy, and they ultimately won the match.  During the first playoff hole, Lazzaro bogeyed and Huhn made par, just missing his birdie putt by an inch.  During the second playoff hole, Huhn's second shot went beyond the green into the thick fescue grass, but he managed an astounding bogey.  Lazzaro's second shot landed 20 feet from the pin, and he drilled the putt into the hole for an amazing birdie, giving NA the win over undefeated Sewickley. 
The big win lifts NA's overall record to 4-1 for the season. The Tigers will have another tough test on Tuesday when North Allegheny visits Central Catholic in a section affair. Tee-time is scheduled for 3:30 pm.
Match Summary

NORTH ALLEGHENY - 204
SEWICKLEY ACADEMY - 204
NORTH ALLEGHENY
SCORE
SEWICKLEY ACADEMY
SCORE
Martin Lazzaro
38
Keenan Hickton
39
Josh Huhn
38
Anthony Muscato
38
Mike Sudo
51
Sam Duerr
42
Ryan Dougherty
42
Scott Brown
45
David Mraziik
48
Jason Li
40
Nick Longo
38
Bobby Hapanowicz
45
TOTAL
204
204
Noah Wessel
43
Neal Houston
43
Connor Gingrich
43
Declan Hickton
42