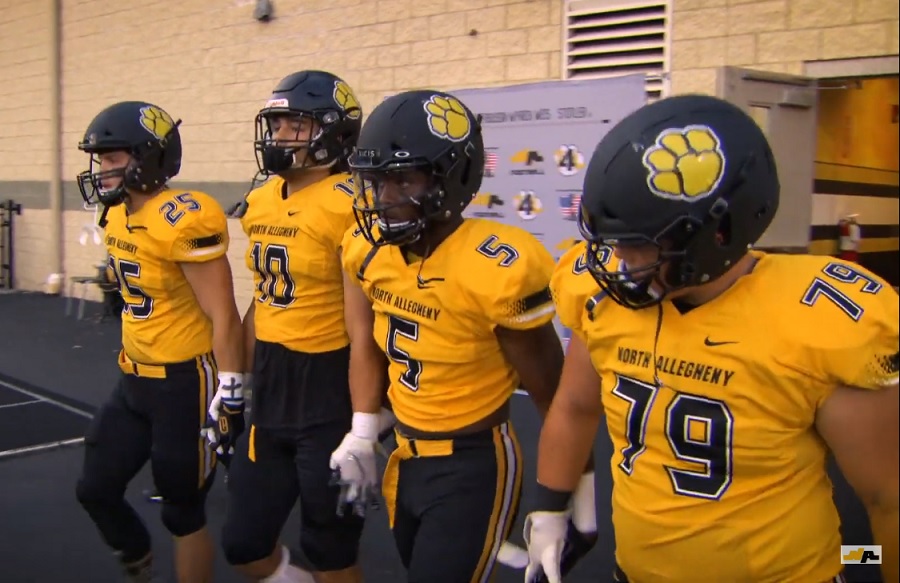 Undefeated Tigers Visit Rival Seneca Valley Tonight
The undefeated North Allegheny Tigers (5-0) visit NexTier Stadium and the Seneca Valley Raiders (2-3) tonight in a Class 6A Quad County Conference contest.
The Tigers hope to continue their hot start to the 2019 season, following a 40-14 win over the Mt. Lebanon Blue Devils last week. With a bevy of big plays, North Allegheny scored on four plays of 59 or longer en route to the victory. Senior running back Percise Colon, who received an offer from Valparaiso this week, rushed for 150 yards and two touchdowns in the win. Colon has rushed for 619 yards this season and five touchdowns, averaging 8.7 yards per carry.
Seneca Valley bounced back from a 1-3 start to season with a 55-0 whitewash of Butler last Friday night. Quarterback Gabe Lawson rushed for two touchdowns and tossed a 29-yard scoring pass to receiver Connor Lyczek in the blowout. Lawson is three-sport athlete, who has passed for over 400 yards and three touchdowns this season.
Tonight's game is a rematch of last year's Class 6A WPIAL semifinal in which the Raiders upset the Tigers at Newman Stadium, 31-14. Seneca Valley has appeared in the WPIAL championship two of the last three seasons and entered the 2019 campaign with aspirations of finally winning WPIAL gold. However, the Raiders failure to hold second-half leads against Central Catholic and Mt. Lebanon has them in fifth place in the conference standings.
At the midway point of the season, the Tigers are the pacesetters in Class 6A with Pine-Richland, the only other undefeated team in the conference, sitting just a half game back in the standings.
One of the reasons for NA's success is a rock-solid defense that has allowed only six points per game and four touchdowns all season. Junior linebacker Nathan Hoke is the team leader in tackles with 30 stops and senior lineman Sam Sheridan, a D-I recruit, tops the team in sacks with 6.5 on the year.
Seneca Valley will attempt to solve the North Allegheny defense running behind an offensive line that is anchored by center Josh Kaltenberger, a Purdue University commit. The number one play maker for the Raiders' offense is senior Ethan West, who leads the team in both rushing and receiving. Head Coach Ron Butschle, in the third year of his second stint leading the Raiders, will try to get the ball in West's hands in a variety of ways.
Last season, the defense was the strong suit for Seneca Valley, which allowed a Class 6A low 11.8 points per game. With a number of new faces on defense in 2019, the Raiders have yielded 16 points per game and will contend with a North Allegheny offense that averages 31 points per game. The Tigers have scored 40 points or more in three of their last four games.
Kickoff for tonight's game between North Allegheny and Seneca Valley is slated for 7:05 pm from NexTier Stadium. The game will be broadcast live via the internet by the North Allegheny Sports Network, with the pregame show starting at approximately 6:40 p.m. To listen to tonight's game, click here.